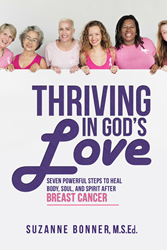 FLAGSTAFF, Ariz. (PRWEB) July 30, 2018
Author Suzanne Bonner was raising two young sons when she received news that doctors found 13 cancerous tumors in her left breast. Unsure of what to do, she turned to her faith and searched through the Bible for hope and support. After being placed in recovery, she began teaching numerous Bible studies to women battling the same illness to help them find their inner strength during the treatment and recovery process.
In her new book, "Thriving in God's Love: Seven Powerful Steps to Heal Body, Soul, and Spirit After Breast Cancer," Bonner provides seven powerful steps that each contribute to healing the soul, spirit, and body, such as family, forgiveness, food, fitness and more.
Bonner also provides examples of why these aspects are important to healing after breast cancer and how they helped her on her personal journey to healing.
"It has been my experience that these women are surviving, but very few describe themselves as thriving," Bonner said. "Fears of a reoccurrence, along with feelings of not quite being fully well, leave them with a desire to find something to do to improve their sense of well-being."
In "Thriving in God's Love," readers can learn how to heal more completely in body, soul and spirit after the toll of breast cancer by thriving in God's healing.
"Thriving in God's Love: Seven Powerful Steps to Heal Body, Soul, and Spirit After Breast Cancer"
By: Suzanne Bonner, M.S. Ed.
ISBN: 978-1-9736-1334-3 (sc); 978-1-9736-1335-0 (hc); 978-1-9736-1333-6 (e)
Available at the Westbow Press Online Bookstore and Amazon
About the Author
Suzanne Bonner, M.S.Ed. is a certified Christian Wellness Coach, health educator, wife, mother of two sons and seventeen-year breast cancer survivor. She teaches Bible studies for women with cancer from all walks of life, and she also speaks to small and large groups of women on a variety of health issues including cancer prevention. After struggling through a long battle of breast cancer, she is helping women use the techniques she used to find spiritual, physical and emotional healing after illness. You can find additional resources on her website: http://www.HisCompleteTransformation.com