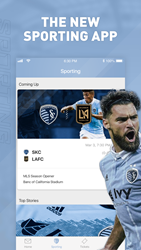 This app aims to meet fans where they are," said Aaron Borns, vice president of marketing of Sporting Kansas City.
KANSAS CITY, Mo. (PRWEB) February 19, 2019
Sporting Kansas City, in collaboration with fan engagement software and analytics company FanThreeSixty, announced an all-new official team app ahead of the season opener on Thursday. The new app, available for download today, gives fans a more personalized experience with the MLS club.
"This app aims to meet fans where they are," said Aaron Borns, vice president of marketing of Sporting Kansas City. "Whether you're a first-time attendee or a longtime Season Ticket Member who has watched us raise four trophies in six years, there are content experiences for everyone. And now with enhanced mobile ticketing features, the Sporting KC app has achieved even more utility as a one-stop shop for our supporters."
Fans can now either log in to or sign up with the Sporting app using a SeatGeek account—a first for the mobile-focused ticket platform.
"Our core belief is that it should be easier for fans to access and share their tickets," said SeatGeek Co-Founder Russ D'Souza. "We're excited to work with Sporting Kansas City to continue to innovate around the fan experience."
Single sign-on with SeatGeek lets fans access, scan or transfer tickets for upcoming Sporting games, removing the need for paper tickets while giving fans a seamless matchday experience.
With enhanced design and personalization in mind, the new Sporting app gives each fan a custom experience with in-venue offers, in-app promotions, and news and content tailored to the individual. Simplified navigation and an updated stadium map make it easier for fans to find what they're looking for at Children's Mercy Park, as well as discover new in-stadium offerings and events near them.
The elevated mobile platform gives fans faster access to club information, scores and highlight videos. Notifications like live scores and stats, breaking news and ticket specials are delivered right to the fans' homescreen, ensuring they never miss a moment on or off the field.
While the new mobile app provides a premium experience for fans, it also gives Sporting Kansas City a single source of truth for fan insights.
"Our fan engagement platform and integrated mobile solution help Sporting Kansas City better understand who their fans are," said Jason Houseworth, CEO of FanThreeSixty. "Together, we're surfacing insights about today's fans that not only personalize their experience, but also help Sporting drive meaningful relationships with fans that go beyond matchday."
The app is available for download at no cost in the App Store and in Google Play. Existing users can simply update their Sporting app to the latest version if not set to auto update.
About Sporting Kansas City
Sporting Kansas City is owned by Sporting Club, an entity founded by a group of local business and community leaders comprised of the Patterson Family, Cliff Illig, Pat Curran, Greg Maday and Robb Heineman. Sporting KC prides itself on a commitment and vision to provide high-performance experiences. Sporting Club purchased the team from the Hunt Sports Group in 2006, and under its direction has opened Swope Soccer Village, Children's Mercy Park, Wyandotte Sporting Fields and Pinnacle while investing in the Sporting KC Academy and Swope Park Rangers for developing local youth into homegrown talent. A charter member of Major League Soccer, Sporting KC are two-time MLS Cup champions (2000, 2013) and four-time winners of the Lamar Hunt U.S. Open Cup (2004, 2012, 2015, 2017).
About FanThreeSixty
FanThreeSixty offers data-driven solutions for every touchpoint throughout the fan journey. Founded by sports and tech veterans, FanThreeSixty changes the way sports and entertainment brands act on fan data. FanThreeSixty's industry-leading fan engagement platform accelerates the data transformation, creating a 360-degree view of the fan. This leads organizations to actionable insights that maximize the value of every fan while creating remarkable fan experiences. fanthreesixty.com
###