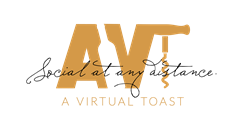 "This is not a simple zoom with some wine. This is the fine dining experience recreated for virtual business development."
KANSAS CITY, Mo. (PRWEB) September 09, 2020
M Square Capital announces today that it has launched A Virtual Toast – a virtual client engagement solution for B2B organizations. The company addresses the challenge of how to build client relationships in a socially distanced world by fostering the sense of community and camaraderie traditionally developed over a table of shared food and delicious wines.
"Businesses everywhere are struggling to find ways to interact with their clients in the current pandemic." says M Square Capital's Chairman, Major Baisden. "Getting to know your clients outside the office and building personal relationships is what drives business-to-business sales. A Virtual Toast is the solution to how to build those relationships when in-person meetings aren't feasible."
A Virtual Toast will leverage the capabilities and successes of another M Square Capital portfolio company – the nationally acclaimed, award-winning Tannin Wine Bar and Kitchen – in delivering this virtual service.
"We have taken our high standards of service and applied them to a new medium," says Barry Tunnell, AVT's Wine Director – who also serves as the General Manager of Tannin. "Our hosts guide each experience from beginning with the introduction of all guests, to sharing special details about the wines, food and pairings. Our clients can relax and feel confident that our hosts are always available to ensure that our events are seamlessly engaging, while our hosts know not to intrude on our clients' time to enhance their connections. We think that A Virtual Toast is not only an effective replacement for traditional business dining, but that we can actually provide an enhanced, more engaging dining experience."
"This is not a simple zoom with some wine," says Baisden. "This is the fine dining experience recreated for virtual business development. We take care of everything related to the planning of the event, catering to dietary restrictions, providing ready-to-heat gourmet meals, hand-picking top wines, shipping and delivery to the guests, and, of course, delivering impeccable in-event service. We know that relationships are what matter most in the business world. We are here to help our clients build them."
About A Virtual Toast
A Virtual Toast fosters the senses of togetherness and community that are essential to the experience of food and wine, regardless of contexts and challenges. We believe in the value of connecting real people, regardless of distances or circumstances, to share the experience of handmade, artisanal wine and food. We help businesses be Social, at any distance.
About M Square Capital
Founded in 2010 by technology startup veterans, M Square Capital is an investment group focused on the hospitality, logistics and entertainment industries. The group has successfully acquired and built businesses across the US, creating returns for investors and employees across its portfolio.