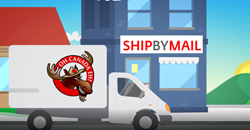 ShipByMail is accredited by the Better Business Bureau, with a commitment to trustworthy and exceptional service.
VANCOUVER, British Columbia (PRWEB) November 06, 2019
Thanks to a new tech start-up from British Columbia, Americans and Global shoppers can now make tax-free purchases from Canadian online merchants and ship their purchases to their home for as low as US$9.99.
Since their launch in October 2017, Vancouver-based ShipByMail Services Inc. has provided parcel forwarding from hundreds of merchants to shoppers in the US and around the world.
ShipByMail's service is unique and first of its kind from Canada, says CEO Lionel Sim. "With the strong US Dollar, there has never been a better time to launch such a package forwarding service from Canada. Between US Trade Wars and the strong American Dollar, gone is the perception that products sold in Canada costs more than in the USA. Every US$100 buys $131 in Canadian dollars. Therefore, it is very common for our US customers to save between 10% - 40% when they purchase and ship their products from a Canadian online retailer via ShipByMail."
Laura Ranalletta, Head of Customer Experience, says that the company continues to invest in technologies that allow for seamless purchasing between consumers and retailers. "To make a Tax-Free Purchase from a Canadian merchant, all customers need to do is to sign up for a free ShipByMail account and submit a BuyForMe (BFM) order through their dashboard using our integrated PayPal and Credit Card purchasing system. The turnaround time is swift and offers great savings on taxes and shipping, arriving at the client's home within 11 days of purchase."
Alternatively, customers can make their own purchases directly with the merchant and ship their purchases to their Free Virtual Canadian Mailing Address which is given to them during registration. Savvy shoppers consolidate their purchases to save up to 70% in shipping fees while gaining access to affordable goods at great Canadian prices.
What makes buying from Canadian merchants even more compelling is that Americans can import up to US$800 completely duty and sales tax-free. Best of all, we do all the customs paperwork to allow a seamless and hassle-free import process.
In August 2019, ShipByMail was recognized by CanadaPost as a National Growth Leader in Global Shipping. "We are absolutely thrilled with this recognition as it shows that our customer-centric strategy is bearing fruit," says Laura.
ShipByMail is accredited by the Better Business Bureau, with a commitment to trustworthy, exceptional service. As Canada's premiere package forwarding service, we provide affordable, high quality products from Canadian merchants to a worldwide client base."