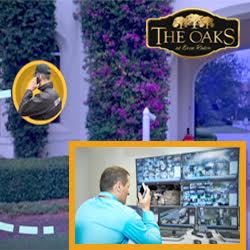 They who can give up essential liberty to obtain a little temporary safety deserve neither liberty nor safety. ― Benjamin Franklin
BOCA RATON, Fla. (PRWEB) December 10, 2018
While it may seem logical that gated communities would be a safer place to live than typical residential city streets, this is not necessarily the case.
The concentration of wealth in many of these gated communities often make them high value targets for would be thieves and criminals. This was made even more obvious during the holiday season of 2017, when a rash of car thefts occurred in the West Boca Raton and Delray area resulting in more than 40 car thefts over a 2 or 3 month period of time. These cars were all stolen from inside the walls of local gated communities. In each case, these cars were unlocked with key fobs in the vehicle or nearby.
The Oaks of Boca Raton decided it was time to take action and they requested a security assessment from the Palm Beach County Sheriff and from security companies in the local area. It was determined that these criminals were entering the communities by coming over the perimeter walls which were unsecured with little to no lighting or visibility.
At this point, the community began reviewing solutions from various security companies and after a lengthy process of presentations and demonstrations the community partnered with Techpro Security of Boca Raton.
According to the General Manager for the Oaks of Boca Raton, Richard O'neil "Techpro was selected because not only was their pricing very competitive but the product was second to none. Techpro has been remarkable to work with and I highly recommend their services to other communities."
Techpro Security has been installing security cameras for local neighborhoods and communities since 2007. A brand new, complete security solution was custom designed by Techpro for the Oaks of Boca Raton. This solution included the installation of heat detecting thermal cameras, long range infrared cameras and high resolution starlight cameras along the extensive 3 mile perimeter of the community.
In addition, these perimeter cameras are being monitored remotely by Digital Security Guard 24 hours a day, 365 days a year. Any suspicious activity at the perimeter is reported directly to the physical security guards onsite in the community. This remote video monitoring service is a cost effective and efficient method to protect the entire perimeter of the community.
To enhance the existing security of the community, License Plate capture cameras and recognition software is now installed at every entrance and exit as well as facial capture cameras at every visitor entrance.
Once a vehicle enters the community a series of ultra high resolution security cameras have been installed at every major intersection to allow security to track the routes taken by vehicles inside the community.
For further peace of mind, Techpro is providing disaster backup power which will keep the entire system running even if power is out for days or weeks after a disaster like a hurricane.
The installation of the new security system was completed at the end of November 2018. The entire project took approximately 4 months to install. According to the owner of Techpro Security, Brad Besner "This was a challenging project because we had to bring power, and data to the entire 3 mile perimeter. Fortunately, our team had the expertise and experience to make this project a huge success. The residents of the Oaks can all sleep better knowing they have the most sophisticated community security system that I know of anywhere."
An additional benefit for this community is that Techpro installed underground fiber optic cables which has allowed the Oaks to connect both entrance guard houses and the clubhouse together into a single high speed network.
During the community board meeting at the end of November, Brad Besner presented the entire camera system to the community on the big screen in the conference room and the reaction of the residents and board members was overwhelming. The President of the HOA Board for The Oaks of Boca Raton, Stacy Berstein says, "The Oaks is a wonderful community to live in. The new state-of-the-art perimeter security system will put the community on the map for one of the most desirable communities to live in South Florida."