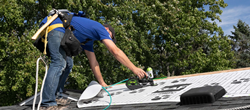 "We listened to our contractors' needs to make several enhancements to the STINGER CN-100B. It is now even more durable with an improved cap magazine and fewer reloads."-- Roger Szotko, STINGER® Product Manager
GRAND RAPIDS, Mich. (PRWEB) April 22, 2019
National Nail, an industry-leading manufacturer of fastening tools for roofing underlayment and house wrap, introduces the newly-enhanced STINGER CN100B Cap Nailer with an innovative design that improves performance with an improved cap magazine for added durability. The original CN100 is a recognized leader in time-saving roofing tools and part of the GAF Hire a Hero training program for military veterans.
Lightweight at 4.9 lbs., STINGER's CN100B features effortless loading, upgraded tool life, and utilizes full, one-inch collated plastic caps; it is capable of firing 200 caps/200 nails before reloading. The Electro Galvanized ring shank nails are 1" X .083" full round head.
"Our upgrades are completely based on customer feedback--we listened to our contractors' needs to make several enhancements to the STINGER CN-100B. It is now even more durable with an improved cap magazine with fewer reloads," said Roger Szotko, STINGER® Product Manager, National Nail. "The plastic caps are also ASTM tested for high wind and UV performance."
The STINGER CN100B also includes an installed belt hook, trigger with bumpfire and sequential modes, and durable carrying case.
To learn more about the newly-enhanced, versatile CN100B Cap Nailer please visit http://www.STINGERWORLD.com or call 1-800-746-5659.
― ― ― ― ― ― ― ― ― ― ― ― ― ― ― ―
About National Nail:
National Nail Corp., headquartered in Grand Rapids, Mich., is an employee-owned manufacturer and distributor of high quality, innovative building products and service solutions for the residential and commercial construction industries. Other National Nail brands include PRO-FIT® (packaged, bulk and collated fasteners), and CAMO® Deck Fastening System – Edge, Face and Clips; Premium Deck, Premium Trim, Composite, and Structural Screws.