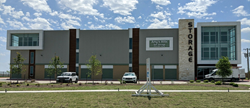 "The staff at Amy's Attic Self Storage were extremely professional, friendly, and helpful from my first contact by phone throughout the leasing process. The property is clean and well maintained, and I am very relieved to know that my investment is well protected!"
WACO, Texas (PRWEB) May 20, 2021
Amy's Attic Self Storage proudly announces the opening of its newest location in Waco, Texas. The state-of-the-art storage facility is located adjacent to the Central Texas Marketplace at 1821 S. New Road, Waco, TX 76711. Conveniently situated across the street from Cottonwood Creek Golf Course and the WACO ISD Stadium, this new storage facility offers a wide entrance / driveway and is less than 1 mile from I-35 and less than 4 miles from Baylor University.
The 3-story storage facility is enormous at over 100,000 square feet, making it almost twice as large as the national average. That means more convenient, affordable, and secure storage units and moving space for the citizens of Waco and surrounding Central TX communities. A variety of storage unit sizes are available for rent including: 5x5, 5x15, 10x10, 10x15, 12x15, 10x20, 10x25, and 10x30. Customers may reserve a unit by completing an online form at https://www.amysatticss.com/waco-tx/ or by calling (254) 651-1579.
"The staff at Amy's Attic Self Storage were extremely professional, friendly, and helpful from my first contact by phone throughout the leasing process. Security cameras and vigilant office staff ensure a sense of safety and trust. The property is clean and well maintained, and I am very relieved to know that my investment is well protected!"
--Linda M.
"This project has been a very exciting undertaking from start to finish. The people of Waco deserve the best in self storage service, and I have no doubt that this new facility will deliver. I'm proud of the time, hard work, and attention to detail the team has put in towards making this the superior storage facility in town, and the result speaks for itself."
--Bob Vamvas, General Manager, Amy's Attic Self Storage
The new facility opened on May 5th, and storage units are currently available to rent. The "Grand Opening" celebration along with a ribbon cutting ceremony is scheduled for Friday, June 11, 2021.
Renting or reserving a storage unit online may be a great way to ensure you have the unit that best suits your needs. For additional information about this new self-storage facility in Waco, including specific pricing and availability, please contact Amy's Attic Self Storage in Waco by phone at (254) 651-1579.