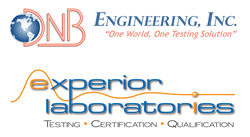 FULLERTON, Calif. (PRWEB) February 12, 2019
Today, DNB Engineering, Inc. and Experior Laboratories, Inc. announced a partnership with the mutual goal of offering the most comprehensive overall service portfolio and generating substantial impact for strategic proposals. The partnership promises to provide a superior client experience to our customers within the Aerospace, Military, Automotive, Telecommunication, and Medical industries.
This decision comes following extensive strategic planning by both organizations. The partnership gives DNB Engineering, Inc. the opportunity to expand its Vibration and Shock Testing service capabilities and gives Experior Laboratories, Inc. the opportunity to add capabilities in Electromagnetic Compatibility (EMC), High Intensity Radiated Field (HIRF), Lightning, and Product Safety Testing services.
The new partnership is expected to spark innovation and dedication to solving our customer's testing challenges and find solutions for all their qualification needs.
Both organizations are committed to working in close partnership to provide facilities for their customers where they will be able to obtain a qualified unbiased third-party product evaluation.
"We are excited about this partnership with the guys at Experior Laboratories, Inc. It gives us the ability to go after strategic large-scale programs that involve our expertise (Unrivaled Electromagnetic Compatibility, Lightning and HIRF testing) and Environmental, specifically vibration and shock testing for large test articles." explains Tony Piraino, Vice President of Sales and Marketing at DNB Engineering, Inc.
"Executing increasingly large-scale component and system qualification test campaigns for the commercial and non-commercial space, as well as other industries, our customers are looking for a one-stop testing partner and our partnership with DNB Engineering will fill a very important void with their expertise in EMI/HIRF testing" says Roger Rutz, Vice President of Sales and Marketing at Experior Laboratories, Inc.
About DNB Engineering, Inc.
DNB Engineering, Inc. a full-service test lab that has been family-owned and operated since 1979. They provide Electromagnetic Compatibility (EMC), Lightning, High Intensity Radiated Fields (HIRF), Environmental, Product Safety and Regulatory Test capabilities. With four locations in California, one in Utah and another in Arizona, DNB Engineering, Inc. has the facilities, certifications and the experienced personnel to meet all testing, qualification, and regulatory compliance specifications. The company has the largest commercially available Mode Tuned Chamber for HIRF testing, capable of reaching field strength levels up to 25,000 V/m, and a brand new, state-of-the-art Direct Effect Lightning Test Facility.
DNB Engineering, Inc. is NVLAP accredited to ISO/IEC 17025 standard and employs NARTE qualified personnel to meet all testing in the EMC scope.
Additional information about DNB Engineering, Inc. can be found at http://www.dnbenginc.com
About Experior Laboratories, Inc.
Experior Laboratories, Inc is a Southern California based, third-party test laboratory providing independent design verification and qualification testing services to component and system manufacturers, military contractors, integrators and system providers within the Military, Aerospace, Space, Telecommunication, Industrial, Medical and many other industries.
Recognized throughout the industry for superior customer service, consistent on-time delivery, project management by experts and end-to-end accountability, Experior Labs offers customers cost-effective, highly qualified testing services that add value to any organization, regardless of size.
Experior Labs was founded in 2003, is headquartered in Oxnard, CA, and occupies 42,000 sq ft. in three buildings.
For more information, see http://www.experiorlabs.com