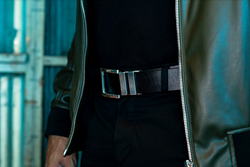 "Stretch Buckle Belt combines the comfort of an elastic belt with the polished appearance of a buckle belt. Whether you're adapting throughout the workday, going out to eat, switching from professional to casual wear or going through a weight-loss size change, this belt is perfect for you."
HOUSTON, Texas (PRWEB) November 13, 2018
People struggle to find a belt that never feels too loose or too tight. Throughout the day, people's waistline size changes while sitting, standing, walking, or even eating. To help men get the adjustable fit they desire without sacrificing style, Stretch Buckle Belt has launched a leather ratchet belt with springs built right into the buckle. Today, Stretch Buckle Belt launched a Kickstarter campaign in the hopes of raising $30,000 USD to bring elasticity and comfort to men worldwide.
The belt's buckle is equipped with built-in springs to give users stretch. The discreet ratchet buckle mechanism allows the wearer to choose their precise, desired size. Regardless of how the belt is buckled, it moves with the wearer throughout the day, without compromising support. The buckle locks into place and has an easy release mechanism for efficient removal — simply lift up the front of the buckle to release the strap.
"Men of all shapes and sizes are looking for a comfortable, functional and stylish belt option," Robert Howard, founder of Stretch Buckle Belt, said. While elastic belts have an abundance of give to provide comfort, they fall way short when it comes to fashion. We created Stretch Buckle Belt to combine the comfort of an elastic belt with the polished appearance of a buckle belt. Whether you're adapting throughout the workday, going out to eat, switching from professional to casual wear or going through a weight-loss size change, this belt is perfect for you."
Made with attractive, high-quality, top-grain leather, the belt also has a functional tapered end. The belt's flexibility permits one size fits all; US men's size up to 44 in. and a strap width of 1 ⅜ in. The strap color options are dark grey or black with buckle color options of either brass or silver.
Stretch Buckle Belt is currently available for pre-order on Kickstarter for $49.00 USD. For more information about the campaign or to place an order, visit pr.go2.fund/stretchbucklebelt.
About Stretch Buckle Belt
Stretch Buckle Belt founder, Robert Howard, was tired of having to choose between style, function or comfort when choosing which belt to wear. As an Anesthesiologist Assistant with entrepreneurial dreams, he began devoting his time and creativity to designing the perfect solution: Stretch Buckle Belt. With the goal of giving men get the fit they desire without sacrificing appearance, Stretch Buckle Belt launches to bring newfound comfort and style to men worldwide. To learn more, visit producthype.co/stretchbucklebelt/.