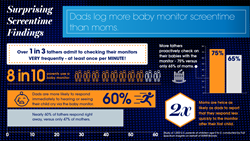 WOONSOCKET, R.I. (PRWEB) December 12, 2019
Dads are logging more screen time on their baby monitors than moms, according to a national study funded by baby care brand Summer.
Research firm Full Spectrum Insights asked 1,000 U.S. parents with children between the ages of 0 and 2 about their parenting habits. The mobile survey spanned genders, generations and income levels.
More than one in three men said they check their monitors at least once per minute, compared to only one in four women, according to the study. Women admitted to only checking their monitors when they heard crying. Dads were also quicker to respond to the cries, versus moms who tended to wait – especially for subsequent children.
"These results were extremely surprising to us," said Summer VP Brand Marketing Jen Johnson. "We talk a lot about screen time, and dads seem to be as glued to their baby monitors as their phones!"
Other findings included:

Parents feel overwhelmingly judged, but won't admit to judging others (80% versus 56%)
More moms than dads admit to embarrassing behavior when nobody's watching (61% versus 47%)
More moms than dads monitor their exes on social media (32% versus 24%)
More parents prefer their kids to found tech startups than climb the traditional ladder to the C-suite (52% versus 35%)
More millennial parents want their children to go into their line of work (58%)
The study was part of Summer's "Caught in the Act" project, where the brand is teaming up with digital artist Stephen Crowley to show the secret lives of babies, revealed through the high resolution of its new Baby Pixel Zoom HD video baby monitor.
Through the end of the year, parents are invited to share what their kids do when they think nobody's watching, at https://summerinfant.com/caughtintheact. Summer has committed to matching 10% of Baby Pixel Zoom HD monitor sales on summerinfant.com to Be The Match bone marrow registry, which helped save Crowley's daughter's life.
About Summer™
Summer™ is dedicated to making bath time, meal time, play time and every time in between special for parents and children. For more than three decades, Summer's thoughtfully designed, pioneering infant and toddler care products have made family life easier, safer and more fun. For more, visit summerinfant.com.
About SUMR™ Brands
Based in Woonsocket, Rhode Island, SUMR™ Brands is driven by a commitment to people, product, and purpose. The Company is made up of a diverse group of experts with a passion to make family life better. For more, visit sumrbrands.com.