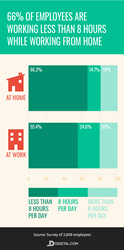 LONDON (PRWEB) May 11, 2020
Digital.com, a leading independent review website for small business online tools, products and services, has published a survey report on American employees who are currently working from home. The new study highlights decreased productivity as a major challenge for employees who must work remotely during the coronavirus pandemic.
Key factors contributing to less productivity include lack of prior work-from-home experience and anxiety about the disease. Approximately 54 percent of employees said they are working remotely for the first time. While 1 out of 3 employees have difficulty maintaining efficiency, level, almost 30 percent said it was primarily due to concerns about COVID-19. Respondents also mentioned other work-from-home distractions such as their children, spouse and TV or media streaming.
"With millions of Americans now working from home due the pandemic, it's important for business leaders to understand the impact on productivity and work-life balance," says Toni Allen, General Manager of Digital.com. "We developed this survey to provide some insight about the challenges within our current workforce."
Experts at Digital.com partnered with YouGov, a recognized authority on public opinion data, to survey 2,909 American employees from age 18 to 55 and older. To view the complete survey report, please visit https://digital.com/coronavirus-employee-work-from-home-productivity/.
ABOUT DIGITAL.COM
Digital.com reviews and compares the best products, services, and software for running or growing a small business website or online shop. The platform collects twitter comments and uses sentiment analysis to score companies and their products. Digital.com was founded in 2015 and formerly known as Review Squirrel. To learn more, visit https://digital.com/.