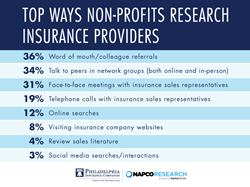 The trend of implementing new revenue sources that aren't core to the mission of the non-profit presents great risk to these organizations.
BALA CYNWYD, Pa. (PRWEB) August 29, 2019
Insurance agents can build stronger relationships by understanding the unique needs of their non-profit customer. That is one of the findings in a new report, titled "Challenges, Opportunities, and Insurance Buying trends in the Non-profit Industry."
Non-profits face the same risks as for-profits, plus unique risks that require specialized insurance coverage. The top three challenges non-profits said they're facing are cultivating donors and stewardship, having adequate staffing, and retaining donors. Forty-one percent of non-profits are planning to or actively exploring for-profit opportunities according to the report.
"The trend of implementing new revenue sources that aren't core to the mission of the non-profit presents great risk to these organizations," commented Paul Siragusa, vice president of human services underwriting at Philadelphia Insurance Companies. "Organizations lack the experience and sometimes insurance coverage when adding these alternative revenue sources that can put them in financial peril."
To combat their challenges, 46% of non-profits said they're shifting fundraising activities to the web and social media. The push for online donor recruitment is also apparent when examining nonprofits' technology usage: 63% use online fundraising technology, while only 29% use peer-to-peer fundraising software.
While the search for donors is digital, the search for insurance companies is personal. The organizations said interpersonal relationships are extremely important for non-profit companies purchasing insurance. Non-profits are relying on recommendations and insurance agent/broker relationships for insurance buying decisions. While price and breadth/depth of coverage are the top factors to non-profits in policy selection, 89% said the relationship with current insurance provider is an "important" or "essential" factor influencing policy selection (Figure 7, page 14). As put by one survey respondent, it is all about "finding the right relationship with the representative."
Nearly 200 non-profits were surveyed as part of the report compiled by Philadelphia Insurance Companies, NAPCO Research, and NonProfit Pro. More than 40% of the non-profits surveyed reported annual revenue greater than five million dollars, while only 26% had more than 100 employees. There were more than 1.5 million non-profits registered with the IRS in 2015.
Download the full research paper here.
About Philadelphia Insurance Companies
Philadelphia Insurance Companies designs, markets, and underwrites commercial property/casualty and professional liability insurance products incorporating value added coverages and services for select industries. The Company is rated "A++" (Superior) by A.M. Best Company and "A+" for counterparty credit and financial strength by Standard & Poor's. In business for over 50 years, PHLY is nationally recognized as a member of Ward's Top 50, one of the Best Places to Work in Insurance, and one of the Healthiest 100 Workplaces in America. The organization has more than 50 offices strategically located across the United States to provide superior service. For more information, please visit http://www.PHLY.com.
About NAPCO
Led by a former Forrester Research analyst, the NAPCO Research team crafts custom data-centric solutions that leverage our highly engaged audiences across the markets in which we operate, our industry subject matter experts and in-house research expertise. We partner with our clients to identify their unique business problem and create solutions that enable deeply informed decision-making.
About NonProfit PRO
NonProfit PRO is the go-to source for nonprofit management and strategy. Developed for thought leaders and innovators, we cover a wide range of topics to help nonprofits become more effective, efficient and sustainable at what they do. We offer a magazine, website, daily e-newsletter and much more.