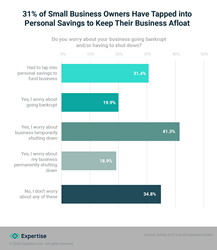 LOS ANGELES (PRWEB) May 20, 2020
Expertise.com, a top resource for finding the best local experts, has published a survey report on the effects of COVID-19 on small businesses in the U.S. Key findings from the research show many small business owners have limited emergency funds and are concerned about permanent closures.
According to the study, closures and bankruptcy are two major concerns among respondents. Approximately 50 percent of small businesses have reduced staff hours due to the coronavirus outbreak and two out of three respondents said they are worried about permanent closures. A lack of sufficient cash reserve is also a constraining factor for small businesses. One out of four respondents said they only have enough cash to keep them out of debt for 1 to 3 months.
"Statistics from the SBA show that small businesses employ over 58 million people in the US," says David Franklin, CEO of Expertise.com. "I believe it's important for the business community to examine and address the challenges among small businesses during the COVID-19 pandemic. In one finding from the survey, over 30% of the businesses surveyed have lost more than half of their revenue."
Expertise.com partnered with YouGov, a recognized authority in public opinion data, to survey 510 small business owners with fewer than 100 employees. The team at Expertise specializes in providing proprietary research and expert reviews to help readers make informed decisions about their goals, projects, and hiring choices. Expertise.com developed this survey to examine the challenges among small business owners during the COVID-19 pandemic. To view the complete survey report, visit https://www.expertise.com/small-business-coronavirus-survey.
ABOUT EXPERTISE.COM
Expertise.com identifies leading service professionals in over 200 industries across the top cities in the United States. The company provides authentic online reviews through a selection process which includes in-depth research, detailed comparisons, and customer feedback. Expertise.com is based in Los Angeles, California and backed by a team of researchers and analysts with the goal of identifying qualified professionals and companies across various industries. To learn more, visit https://www.expertise.com/.