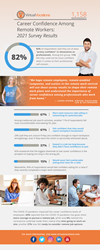 "We hope remote employees, remote-enabled companies, and outlets in the remote work vertical will use these survey results to shape their remote work plans and understand the importance of career confidence among professionals who work from home." –Virtual Vocations CEO and co-founder Laura Spawn
TUCSON, Ariz. (PRWEB) April 27, 2021
New survey results from one of the web's leading remote job boards provide a glimpse into how remote jobseekers and current work from home professionals view their own career confidence more than a year after a global pandemic forced employers in the U.S. and around the world to transition to the digital workplace.
Founded in 2007 by CEO Laura Spawn and CTO Adam Stevenson, Virtual Vocations has connected jobseekers with legitimate remote job openings from thousands of expert-vetted employers for the last 14 years.
This year, as part of the company's sixth annual Remote Work Week celebration, Virtual Vocations polled more than 1,150 adults who are either currently working from home, actively looking for remote work, or at least interested in pursuing flexible, at-home employment to discover how they perceive their own career confidence and learn more about how workers' confidence on the job has been affected by the COVID-19 pandemic.
According to CEO Laura Spawn, the results of Virtual Vocations' 2021 Career Confidence Survey not only "demonstrated the resiliency of remote workers," but also unveiled some of the surprising effects career confidence—or lack thereof—can have on employees.
Of those polled, 42% said the biggest downside to having low career confidence is the prospect of staying too long in the wrong job. Another 31% expressed concern about how low confidence at work might affect their physical and mental wellbeing, while others (25%) cited diminished decision-making skills as the biggest potential drawback to low career confidence.
The survey also found that while most remote workers (82%) say they're at least "pretty confident" in themselves on a professional level, there's still room for improvement. A full 37% of respondents reported staying in a job they knew wasn't right for them because they didn't feel confident enough to give their notice.
Fortunately, there are a number of ways remote-enabled employers can help foster confidence among distributed team members. Of those polled by Virtual Vocations, more than a third (36%) said they'd feel more confident in the workplace if they could work remotely more often or have a more flexible schedule. Meanwhile, 31% said the biggest hurdle to increased confidence at work is a micromanager boss, suggesting that remote employees want managers who trust them to work independently and efficiently even outside of a traditional office.
CEO Laura Spawn says she hopes the results of Virtual Vocations' latest survey can help both employers and employees understand the importance of career confidence and take steps to cultivate it in the digital workplace and beyond.
"We hope remote employees, remote-enabled companies, and outlets in the remote work vertical will use these survey results to shape their remote work plans and understand the importance of career confidence among professionals who work from home," Spawn said.
To learn more about Virtual Vocations or view the full results of the company's 2021 Career Confidence Survey, visit: https://www.virtualvocations.com/blog/annual-statistical-remote-work-reports/career-confidence-remote-workers-2021-survey-results/
ABOUT VIRTUAL VOCATIONS
Founded in 2007 by CEO Laura Spawn and her brother, CTO Adam Stevenson, Virtual Vocations is a small company with a big mission: to connect jobseekers with legitimate remote job openings. To date, Virtual Vocations has helped more than four million jobseekers in their quests for flexible, remote work.
In addition to providing a database that houses more than 40,000 current, hand-screened remote job openings at any given time, Virtual Vocations offers jobseekers a number of tools to aid in their job searches, including exclusive e-courses and downloadable content, and resumé writing services. Virtual Vocations also releases several data-driven reports each year on current trends in remote work.
Virtual Vocations, Inc. is a private, family-owned, and 100% virtual company incorporated in Tucson, Arizona.
PRESS INQUIRIES
Michelle Rawlings
michelle(at)virtualvocations(dot)com
1 (800) 379-5092 ext. 703
VirtualVocations.com