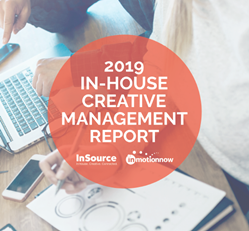 Bringing creative in-house promises greater efficiencies and higher quality creative work, but organizations can't just bolt on a creative team and expect miracles.
RALEIGH, N.C. (PRWEB) February 12, 2019
A new survey of 566 creative and marketing professionals finds that leaders in both camps scored marginal grades and points to a range of challenges in the organizational relationship, team alignment and collaboration – which stem from the natural challenges that come with growing in-house creative teams. More importantly, an analysis of the data links these challenges to the effects they have on creative operations and efficiency, according to findings revealed today in the 2019 In-House Creative Management Report.
While chief marketing officers (CMOs) have increasingly taken more creative work in-house – in pursuit of deep brand knowledge and efficiency – the survey reveals early warning indications that merely adding headcount isn't enough. Marketing and creative departments need well-defined, mutually agreed upon, and highly collaborative processes to drive the benefits CMOs aim to deliver for the business.
The study shows that those creative and marketing organizations with strong alignment are more likely to give leaders higher marks, report good morale, use best practices, and have the capacity to dedicate more time doing what they were hired to do: being creative.
"Bringing creative in-house promises greater efficiencies and higher quality creative work, but organizations can't just bolt on a creative team and expect miracles," says Alex Withers, chief marketing officer (CMO) for inMotionNow. "In order to reap those benefits, creative and marketing teams must develop a strategic relationship – and this study uncovers the keys to building alignment with marketing and creative and driving results faster."
The survey was fielded by InSource, a non-profit professional organization for in-house creative teams, and inMotionNow, a leading provider of creative workflow solutions. High-level findings from the study include the following:

Creative and marketing leaders receive marginal grades as creative teams suffer low morale. Just 64% of respondents said their creative leadership is effective and even less (54%) said their marketing leadership is effective. Less than half (45%) say morale on the creative team is high.
Creative and marketing shops in need of alignment. Following years of growth, just 47% said the relationship between creative and marketing is better this year than last. Collaboration between marketing and creative didn't fare much better with just 51% saying collaboration was effective. An astonishing 79% of creatives said they receive feedback on the performance of creative assets just some of the time or not at all.
The payoff for improving the relationship between creative and marketing. Teams that report strong alignment are 18% more likely to say collaboration is effective; 16% more likely say their marketing leadership is effective, 12% more likely to report using best practices, 12% more likely to have high morale; and 11% more likely to say their creative leadership is effective.
Volume and velocity are the top challenges facing creatives. The increased volume and short deadlines are the top challenges facing in-house creatives. This was followed by the creative desire to be considered strategic contributors rather than "mechanical artists" robotically banging out design, graphics and creative content. A majority (72%) of respondents say "obtaining the necessary information just to get started on a project" is an administrative task that soaks up time that would be better spent doing creative work.
As teams grow, creatives are stuck spending more time on administrative tasks. Nearly half (48%) say they spend about one day a week or more on non-creative work – that's up 14% from the same survey last year. In addition, an astonishing one-fifth (22%) indicated they spend 10 hours a week or more chasing down information, feedback and approvals – that too ticked up 6% from last year's survey. Conversely, those creatives that spend just four hours or less on admin tasks each week are more likely to report effective leadership, use of best practices and an ability to get creative assets into market producing results more efficiently.
"As in-house creative services departments mature and become more embedded within their organizations, more is asked of them on an almost daily basis," says Andy Brenits, president of InSource in his introduction to the report. "If marketing managers merely see the creative team as their go-to resource for execution of tactics, they are missing out on the actual value this in-house resource can be to them. The creative team has problem-solving and idea generating capabilities that extend far beyond executing design and content."
He adds, "This, of course, is where the operations side of things comes into play. In other words, efficient operations are what gives you the time to be really creative problem solvers."
The full report is available online for download here: The 2019 In-House Creative Management Report.
About inMotionNow, Inc.
inMotionNow is a leading provider of workflow management solutions for marketing and creative teams, facilitating efficiency and productivity from project kickoff to final approval. The company's flagship product, inMotion ignite, simplifies every phase of the creative process, delivering measurable value to enterprise clients. The application allows project stakeholders to collaboratively initiate, manage, track, and review important creative projects including print, video, and multimedia designs in a centralized and interactive cloud-based environment. With a user-friendly interface and dedicated customer success team, inMotionNow helps creative and marketing teams automate their workflow and do the work they love. For more information please visit http://www.inmotionnow.com.
About InSource
InSource is a non-profit professional trade association with a mission to provide resources, support, professional development, and advocacy for those in creative leadership positions and for those who aspire to move into leadership positions within corporate in-house creative departments. With nearly 7,000 members in the U.S. and across the world, InSource is the largest network of in-house creative leaders anywhere. Since 2002 InSource has been leveraging the shared experiences and perspectives of in-house leaders – through events, books, and content – to help all of us manage our creative departments, and careers, to be the best that they can be. For more information please visit http://www.in-source.org.
Media Contact:
Frank Strong
for inMotionNow
202-352-5920
frank /at/ swordandthescript /dot/ com