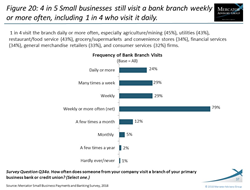 Small businesses visit bank branches often. While they are primarily there to make quick deposits, they are a captive audience for a wealth of services to help small businesses grow and prosper.
BOSTON (PRWEB) December 11, 2018
Mercator Advisory Group's latest report, Small Business Banking: A Captive Audience, is the third of three Insight Summary Reports summarizing the results of the 2018 U.S. Small Business Payments and Banking Survey, a web-based survey of 2,047 U.S. small businesses (between $500,000 and $10 million annual sales), which was fielded in the spring of 2018. The previous two reports presented the survey's findings on payment acceptance and business-to-business payments. The new report analyzes small businesses' use of banking services and alternative lenders.
Small businesses are a captive audience for financial institutions as they still visit the branch often. The survey finds that 79% of U.S. small businesses visit the branch of their primary business bank or credit union at least once a week, including 24% of firms that visit daily or more often. Retailers and services are especially likely to visit the branch daily or more.
Small businesses rely on their business banks for a variety of services although going to the branch remains primarily transactional in nature; 72% go to the branch to make teller deposits and 38% to make ATM deposits, and more deposit cash than checks. Yet, nearly 1 in 4 go to meet with a relationship manager, often for financial advice, to resolve problems or to seek assistance for online or mobile banking.
"Small businesses visit bank branches often. While they are primarily there to make quick deposits, they are a captive audience for a wealth of services to help small businesses grow and prosper, particularly lines of credit to support investments and manage their cash flow and wealth management accounts for their personal financial health," notes Karen Augustine, Mercator Advisory Group's Senior Manager of Primary Data Services, the author of this report.
Highlights of this Insight Summary Report include:

Business checking and deposit services and transactional service used at banks, credit unions, and other providers
Types of loans held at primary or other banks or credit unions and at other providers and largest credit line held at a financial institution
Experience with online alternative, peer-to-peer lenders and reasons for use
Use of merchant cash advance and working capital loans
Use of branch, types of activities conducted at branch for deposits, ATM, advice, and support
Use and interest in online and mobile banking capabilities
Preference for online bill-pay
Wealth management relationship at primary financial institution
Satisfaction with primary business bank's dedication to small business
This report contains 53 pages in slide form and 31 exhibits.
Companies mentioned include: Kabbage, Lending Club, OnDeck Capital, and Prosper.
Subscribers to Mercator Advisory Group's 2018 Small Business Payments and Banking Survey have access to these reports as well as survey cross tabs, PowerPoint slides of the report exhibits, and the option of requesting custom queries from the survey data.
For more information and media inquiries, please call Mercator Advisory Group's main line: 1-781-419-1700, or send email to media@mercatoradvisorygroup.com.
For free industry news, opinions, research, company information and more, visit us at http://www.PaymentsJournal.com.
Follow us on Twitter @ http://twitter.com/MercatorAdvisor.
About Mercator Advisory Group
Mercator Advisory Group is the leading independent research and advisory services firm exclusively focused on the payments and banking industries. We deliver pragmatic and timely research and advice designed to help our clients uncover the most lucrative opportunities to maximize revenue growth and contain costs. Our clients range from the world's largest payment issuers, acquirers, processors, merchants and associations to leading technology providers and investors. Mercator Advisory Group is also the publisher of the online payments and banking news and information portal PaymentsJournal.com.