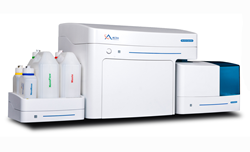 ST. CHARLES, Mo. (PRWEB) August 26, 2020
Eurofins Bioanalytical Services, a member of Eurofins BioPharma Services, Laboratory Testing division, expands its technology footprint with the addition of Novocyte Quanteon™ as a complement to the existing suite of Flow Cytometry platforms available. With industry-leading biomarker solutions, complemented with traditional ligand-binding assays and study management services, clients can accelerate research outcomes from early proof-of-concept studies and throughout the development life cycle. With a focus on intracellular protein detection and proliferation as well as cell signaling, cell cycle analysis, and immunophenotyping, we can customize and design your assay from single analyte analysis through to more complex multi-dimensional assays.
The 25 fluorescent channel flow cytometer provides customers with an expanded set of services that accommodate today's high-science study requirements, and increasingly sophisticated, multi-dimensional assays often needed as part of cell and gene therapies. This technology is highly advantageous for use in decision-making throughout the drug development life cycle, from early preclinical through to late phase clinical studies. Eurofins Bioanalytical Services custom designs solutions in a regulated or non-regulated environment based upon Context of Use to match your drug development program.
Eurofins commitment is to stay at the forefront of technology by offering the optimal choice in a fit-for-purpose approach Scientists now have the flexibility to choose from 25 fluorescent channels from a combination of four lasers (405, 488, 561, and 637nm) and superior sensitivity and resolutions. The NovoSampler Q™, which can be integrated into different laboratory automation platforms, efficiently processes both FACS tubes (using a 40-tube rack) and 24-, 48-, 96-, and 384-well plates. The intuitive and industry-leading NovoExpress® software has been further advanced into an intuitive and powerful software package, providing an exceptional user experience in data acquisition, analysis and reporting leading to faster turnaround time for your data.
Eurofins Bioanalytical Services is a leader in bioanalytical solutions for biologics providing nearly 20 years of industry-leading scientific expertise. As a division of the Eurofins Scientific Group and in combination with our Central Laboratory Services, our sole focus is in pre-clinical and clinical laboratory analysis. With global coverage and laboratories in USA, Singapore, China, and Europe, Eurofins Central Laboratories offers harmonization in Flow Cytometry platforms and capabilities for multi-sites study requirements.
With state-of-the-art, testing facilities in St. Charles, MO, USA, Eurofins Bioanalytical Services develops transfers and validates large molecule PK/TK, immunogenicity and biomarker assays to our client's specifications. With industry-leading capacity, capabilities range from a single plate to large multinational Phase III clinical trials in a broad range of therapeutic indications, including vaccines, most recently COVID-19. Eurofins has the capacity to handle variable sample numbers and large volumes to meet the needs of clients.
About Eurofins – the global leader in bio-analysis
Eurofins Scientific, through its subsidiaries (hereinafter "Eurofins" or "the Group"), believes it is the global leader in food, environmental, pharmaceutical and cosmetics products testing and in agroscience CRO services. It is also one of the global independent market leaders in certain testing and laboratory services for genomics, discovery pharmacology, forensics, CDMO, advanced material sciences and in the support of clinical studies. In addition, Eurofins is one of the leading global emerging players in esoteric and molecular clinical diagnostic testing. With over 47,000 staff across a network of more than 900 independent companies in over 50 countries generally specialised by end client markets and operating more than 800 laboratories, Eurofins offers a portfolio of over 200,000 analytical methods to evaluate the safety, identity, composition, authenticity, origin, traceability and purity of a wide range of products, as well as providing innovative clinical diagnostic testing services. The Group's objective is to provide customers with high-quality and innovative services, accurate results on time and, when requested, expert advice by its highly-qualified staff.
Eurofins is committed to pursuing its dynamic growth strategy by expanding both its technology portfolio and its geographic reach. Through R&D and acquisitions, the Group draws on the latest developments in the field of biotechnology and analytical chemistry to offer its clients unique analytical solutions and a very large range of testing methods.
As one of the most innovative and quality-oriented international groups in its industry, Eurofins is ideally positioned to support its clients' increasingly stringent quality and safety standards and the increasing demands of regulatory authorities and healthcare practitioners around the world.
Shares in Eurofins Scientific are listed on the Euronext Paris Stock Exchange (ISIN FR0000038259, Reuters EUFI.PA, Bloomberg ERF FP).
Important disclaimer:
This press release contains forward-looking statements and estimates that involve risks and uncertainties. The forward-looking statements and estimates contained herein represent the judgment of Eurofins Scientific's management as of the date of this release. These forward-looking statements are not guarantees for future performance, and the forward-looking events discussed in this release may not occur. Eurofins Scientific disclaims any intent or obligation to update any of these forward-looking statements and estimates. All statements and estimates are made based on the information available to the Company's management as of the date of publication, but no guarantees can be made as to their completeness or validity.