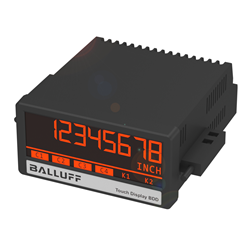 FLORENCE, Ky. (PRWEB) May 17, 2019
Balluff's new touch-screen digital panel meters put data on display. The point-of-use, touch screen digital displays visualize four different types of signals — analog signals, incremental counter signals, start/stop pulse signals, and synchronous serial SSI signals — for easy viewing of information.
Built to the same panel cut-out size, these displays are simple to install, and their touch-screen operation and plain-text prompts make it easy to set their parameters, including the screen color, linearization, hysteresis, totalizer, offset and more. They also provide DC sensor supply.
The digital display panel meters can be used for a wide range of applications, such as in point-of-use where manual operations or automated machine processes require digital numeric feedback to operators, or for applications where sensors are used to check machine status and process conditions. The tri-color display alerts operators to changing process conditions while the built-in display of units eliminates the need for separate panel labels.
Key features include:

Intuitive touch-screen operation and straightforward parameter setting with plain-text prompts
Support for different signal types: analog signals, incremental counter signals, start/stop pulse signals, and synchronous serial SSI signals
Common housing, mounting, and single panel cut-out dimension for all variants across the portfolio
Variety of scaling, signal processing, and programming capabilities minimizes PLC programming
Built-in IP65 front panel protection
Learn more at: http://www.balluff.com
About Balluff:
Balluff stands for innovative technology, quality and cross-industry experience in industrial automation. As a leading sensor and automation specialist, Balluff offers a comprehensive portfolio of innovative sensor, identification and network solutions as well as software for integrated system solutions. We give our all to improve the competitive position of our customers by sharing our passion for automation.
Founded in Neuhausen auf den Fildern in 1921, Balluff now employees 3600 workers in distribution, production and development sites around the globe. This guarantees excellent worldwide product availability for our customers, as well as high-quality consulting and service directly on site.