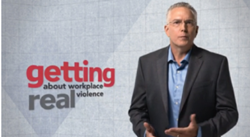 DES MOINES, Iowa (PRWEB) April 13, 2021
Prositions, Inc. announces the addition of a new version of its best-selling violence prevention and survival training program Getting Real About Workplace Violence for Healthcare.
This new program includes information, examples, and recommendations for all healthcare workers, professionals, caregivers, and patients to help recognize the early warning signs of potential violence and the specific actions to take to help survive incidents of extreme violence. In addition, the program shows specific examples and recommendations for hospitals and other healthcare-related facilities and environments. The entire Getting Real About Workplace Violence training program aligns with the American National Standard; the guidance published by ASIS International and the Society for Human Resource Management (SHRM) for best practices addressing workplace violence prevention and response.
"A vital component of any organization's mission is to develop and promote a safe and productive work environment," stated Jim Sporleder, subject matter expert and narrator of Getting Real About Workplace Violence, "Helping healthcare workers understand their critical role in preventing and surviving incidents of workplace violence may not only save lives, but also help diffuse potential situations from escalating in the first place."
The new microlearning training program helps participants:

Understand the 3 critical steps to survive an incidence of extreme violence
Recognize and respond to the early warning signs of potential violence
Become familiar with the concepts of threats and threatening behavior
Know the 3 important questions to ask about "behaviors of concern"
Understand how domestic violence can lead to workplace violence
"This is a critical moment to respond by training and preparing all employees and organizations for the dramatic rise we are seeing in incidents of aggression and violence," stated Frank Russell, CEO of Prositions, Inc. "This new healthcare version of our most popular violence prevention and survival training program is available for a free preview now."
Getting Real About Workplace Violence for Healthcare and Prositions' other violence prevention and survival training programs are available in classroom, eLearning, and microvideo formats. The training program includes high definition microvideos and reproducible training materials.
To request a free preview of the full program, please call (515) 864-7200 or click here.
About Prositions
Prositions, Inc. is a leading provider of learning content and performance support libraries and offers a complete range of consulting, software, and service solutions. DashTrain, their mobile-first application, contains over seven thousand microvideo and SCORM-based learning bites that enable organizations to give their employees instant access to the world's leading "how-to" business libraries and best-selling authors anywhere and at any time. For more information about Prositions, visit https://www.prositions.com.