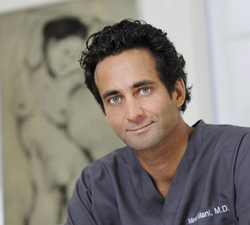 BEVERLY HILLS, Calif. (PRWEB) August 23, 2018
Dr. Marc Mani, one of the leading board-certified plastic surgeons in the United States has developed an hour-long procedure called MIST, or Minimally Invasive Stromal Transfer, that offers a long-lasting, highly effective alternative to BOTOX®. The procedure is performed by Dr. Marc Mani himself at his private, fully accredited surgery center in Beverly Hills. Those interested in the procedure or other plastic surgery services can contact Dr. Mani's office at (310) 203-0511.
MIST is a procedure that promises to regenerate new tissue in any problem areas, resulting in healthy-looking, younger skin. The procedure starts with emulsifying the fat from the patient's own body in an effort to isolate the stem cells. Those stem cells in the form of a fine liquid are then injected into the area of concern. The results are permanent and realistic, and the results are best realized when the stem cell are from the patient. There is no downtime, and it takes a few months for the results to go into full effect.
Dr. Marc Mani says the MIST procedure is a good alternative to BOTOX® and other filler procedures because it does not affect blood supply like filler procedures do. In actuality, MIST will help the skin generate new blood vessels, creating a brighter, youthful look. As there were more than seven million Botulinum Toxin Type A procedures performed in the United States in 2017, MIST is an important breakthrough that could have a significant impact on the plastic surgery field.
About Dr. Mani:
Named one of the top ten plastic surgeons in the United States by Forbes Magazine, Dr. Marc Mani lives and practices in Beverly Hills, CA. Dr. Mani is certified by the American Board of Plastic Surgery, and his practice includes many celebrities and high profile individuals in business, politics, and many other fields from around the world. Dr. Marc Mani performs a number of different plastic surgery procedures at his private, fully-accredited (AAAASF) surgery center, and every procedure is performed directly by him. Dr. Mani is highly involved in his charity work, and he has held multiple charity events for many important causes, including the Children's Burn Foundation. You can learn more about Dr. Marc Mani and his plastic surgery services at http://www.marcmani.com.