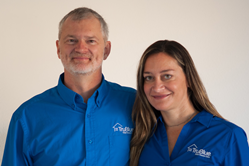 Our employees are experienced, trained, licensed, bonded and insured. You can rest assured that, when you work with TruBlue, you'll be working with a locally-owned small business you can trust to do high-quality work while respecting your home and YOU. - Elizabeth Estline
SAN DIEGO (PRWEB) November 03, 2021
Elizabeth Estline and Thomas Meissner, long-time residents of North San Diego, are pleased to announce their new senior-focused, full-service home maintenance company – TruBlue Total House Care Serving San Diego City North.
Clients looking for dependable, high-quality, customizable services can hire TruBlue for handyman repairs, cleaning services, yard work, seasonal services and minor home renovations. TruBlue also works with homeowners, realtors and property managers who need to get homes move-in ready quickly and keep them maintained. TruBlue serves La Jolla, Mira Mesa, University City, Scripps Ranch and the surrounding areas.
"Our employees are experienced, trained, licensed, bonded and insured. You can rest assured that, when you work with TruBlue, you'll be working with a locally-owned small business you can trust to do high-quality work while respecting your home and YOU," Estline said.
In addition to the work TruBlue does for all types of property owners, TruBlue has a unique program built specifically for seniors. Technicians do Senior Home Safety Assessments, perform age-friendly renovations and offer House Care Plus, a regular service program that can help seniors and their families enjoy the comforts and convenience of owning a home without worrying about the maintenance hassles.
"While we serve clients of all kinds, we were drawn to TruBlue because of the services for seniors. We have elderly parents and we understand what it takes to make sure their homes are well maintained and safe. When you work with TruBlue, either through our House Care Plus program or for individual services, you can rest assured that the seniors in your life have a safe, comfortable place to age in place," Meissner said.
Estline's background includes business ownership, property management, operations management and administration. Meissner has been in Information Technology for the last 35 years, working mostly in customer relationship management and project management. They are both long-time residents of North San Diego, currently living in University City. Estline has lived in University City for more than 12 years. Her boys play basketball and are were involved in Scouts in the area. She has also served as the committee chair for the Cub Scouts in University City. Until last year, Meissner spent 25 years in Scripps Ranch, where he served on the Scripps Ranch Civic Association and the Planning Commission.
"We are looking forward to serving our community in a new way as the owners of TruBlue. This is our opportunity to work with our neighbors, help seniors age in place and bring a higher level of professionalism to the home care industry," Estline said.
TruBlue Serving San Diego City North is licensed, bonded and insured. To learn more, call 858-358-7198, email info.sdcn@trubluehousecare.com or visit http://www.trubluehousecare.com/san-diego-city-north.