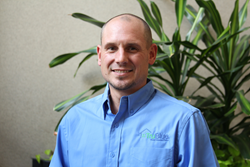 We're busy homeowners here in NKY and, when we learned about TruBlue, we immediately fell in love with the one-call solution. People are just so busy that the last things they have time for are 'to do' lists. With TruBlue, you don't have to worry about those lists anymore. - Brandon Hudson
FLORENCE, Ky (PRWEB) November 27, 2018
Experienced business owner Brandon Hudson is pleased to announce the launch of his new company – TruBlue Total House Care of Northern Kentucky.
TruBlue offers handyman, house cleaning, emergency repairs, yard/lawn care and seasonal services that are perfect for busy families and seniors who want the comforts of their own home without worrying about critical property maintenance. TruBlue also works with homeowners, realtors and rental property owners who need to quickly get homes move-in ready and keep them maintained and has commercial services for business clients. TruBlue of Northern Kentucky serves Florence, Fort Mitchell, Hebron, Erlanger, Burlington, Union, Petersburg and the surrounding areas.
To assist those with ongoing home care needs or who want to take property management off their plates entirely, TruBlue recently rolled out a monthly House Care Plus program, which enables clients to contract with a local TruBlue office to do everything from regular seasonal property maintenance to maid services and lawn work.
Hudson grew up in a family contracting company in Kansas and then spent 10 years in the residential lending business before operating a commercial development company in Arizona. Hudson and his wife, Casey, relocated to Cincinnati a few years ago when Casey was accepted into a local doctoral residency program. They expanded their family from two to three last year with the birth of their daughter, Codi Adilyn.
"TruBlue is a great option for busy families who want to reclaim their weekends," Hudson said. "We're busy homeowners here in Northern Kentucky and, when we learned about TruBlue, we immediately fell in love with the one call solution. People are just so busy that the last things they have time for are 'to do' lists. With TruBlue, you don't have to worry about those lists anymore."
Hudson and his family are also excited to be able to help the senior community through TruBlue.
"As we age, most of us would like to stay in our homes as long as possible. While there are many private caregiver options to help take care of medical and non-medical needs of the individual, the remaining challenge is 'who cares for the house with its ongoing maintenance and repair requirements?' TruBlue alleviates those concerns and, if you use our House Care Plus program, you'll have a trusted advocate to help make sure your home meets your needs every step of the way," Hudson said.
All TruBlue employees are licensed, bonded and insured. To learn more about TruBlue of Northern Kentucky, call (859)697-0619, email BHudson@TruBlueHouseCare.com or visit http://www.TruBlueHouseCare.com/NKY.
About TruBlue
TruBlue provides one convenient and affordable solution for all your house care needs – inside and out. TruBlue's services include house cleaning, household repairs, yard work, emergency repairs, seasonal work and preventative maintenance all handled by a personal House Care Manager. These affordable services are available year-round and customized to meet your needs and budget. TruBlue strives to provide affordable, worry-free living for seniors and hassle-free living for busy adults by providing full-service, trustworthy house care services. TruBlue even offers owners financing for the larger remodeling and property projects. Watch for TruBlue to the Rescue projects which are designed to reach out to neighbors in need of volunteer assistance.