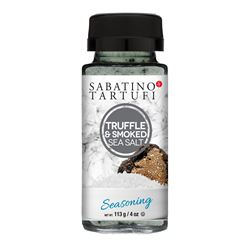 WEST HAVEN, Conn. (PRWEB) April 23, 2021
Today, Sabatino Tartufi introduced its new Truffle & Smoked Sea Salt to its line of Truffle Salts and Seasonings. The new product combines Sabatino's black truffles with a smoked sea salt from Sicily to add a distinctly earthy and smoky finish to dishes. With warmer weather ahead, the new product is being launched to capitalize on grilling and barbecue season.
"Truffles and barbecue work together extremely well. We saw our customers using our truffle salt to finish their grilled steaks and smoked barbecue and thought it was a natural fit," says Federico Balestra, CEO of Sabatino Tartufi. The new product promises to add an elegant and smoky touch to everything from pizzas to grilled meats and vegetables.
The new Truffle & Smoked Sea Salt is packaged in 4-ounce bottles and will retail for $14.99. The product is available online now at SabatinoTruffles.com and Amazon.com, and will also hit retail store shelves in the coming months. For more information, please visit SabatinoTruffles.com.
About Sabatino Tartufi: Sabatino Tartufi, also known as Sabatino Truffles is a leading truffle company based in Montecastrilli, Umbria, Italy, with U.S. headquarters in West Haven, CT. Founded in 1911, Sabatino has helped make truffles accessible to professional and home chefs for over 110 years. The company grows, produces, manufactures, and distributes truffles and truffle products to over 70 countries globally. The company product portfolio includes truffle oils, truffle salts, and the best-selling Truffle Zest® line of truffle seasonings.