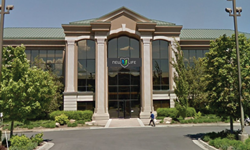 "We reinvest our profits into people, and our newly-opened Lehi headquarters are poised to house our brand as we continue to drive innovation in the nutraceutical and direct selling industries." - Alexy Goldstein
LEHI, Utah (PRWEB) July 23, 2019
New U Life Corporation®, the makers of SOMADERM® and newly-launched KetoGen4, announced that on August 1, 2019 they will move their headquarters to Lehi, Utah — the start-up hub of Thanksgiving Point, which is now home to the nation's leading IT and tech brands.
"Having amassed over 94,000 distributors within a short timeframe, I am very proud of New U Life's rapid growth and am now looking forward to scaling and continued growth with our new executive team and facilities," says New U Life Founder and CEO, Alexy Goldstein. "We reinvest our profits into people, and our newly-opened Lehi headquarters are poised to house our brand as we continue to drive innovation in the nutraceutical and direct selling industries."
The new headquarters houses New U Life's recently established elite executive team led by Chief Operating Officer, Bryan Sweeney, with executive suites, an open work space to inspire creativity, and multiple premium conference rooms. The main conference room's windows allow in natural light to brighten the room while taking in the picturesque views of the mountains. The hallways of the new facility boast barreled arch ceilings with artfully-placed backlighting illuminating each arch.
New U Life's decision to relocate its headquarters to the Thanksgiving Point Development of Silicon Slopes was strategic in solidifying the company's foothold in the newly-dubbed mecca of the direct selling industry.
New U Life's new state-of-the-art facilities will house the company's product development, creative, in-house legal counsel, marketing, and sales teams who will bring the vision of New U Life to fruition as its team of distributors continues to expand.
New U Life intends to have an open house to showcase the new headquarters during the month of September. The date of the open house has not yet been released.
About New U Life Corporation®
New U Life was founded to set a new standard in product innovation and quality while changing lives for the better. New U Life's marquee product, SOMADERM®, is a transdermal gel that safely and non-invasively elevates growth hormone levels. Their latest product launch, KetoGen4, is a ketone drink mix created to be the most complete ketone supplement on the market to date. To learn more about SOMADERM®, KetoGen4, and New U Life, visit http://www.newulife.com.