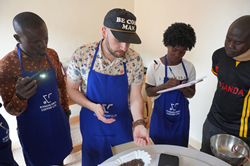 We believe the best way to get awesome coffee is to invest in the people who grow it. Today, we're making an impact via over 60 farmer and co-op relationships around the globe.
COLUMBUS, Ohio (PRWEB) February 27, 2020
Award-winning coffee roaster Crimson Cup Coffee & Tea believes that lack of access to knowledge about coffee quality keeps many coffee farmers from earning a fair return on their crop.
"With the commodity price for coffee hovering around $1 per pound, many of the world's small coffee farmers struggle to eke out a living – even though their coffee, when roasted, may sell for $15 per pound or more," said Founder and President Greg Ubert.
"American consumers who pay $4 or more for a coffeehouse espresso or latte seldom know that the farmer received only a few pennies for the coffee in their cup," he added.
To help solve this problem, Crimson Cup invests in quality labs and teaches farmers how to grade their own coffee. The most recent lab opened in the East Nile community in Uganda earlier this year.
"The more farmers learn about coffee quality and which sensory qualities command a higher price, the better prepared they are to compete," said Director of Sustainability Brandon Bir.
"This community sits at the edge of the East African Rift Valley," he added. "Since Rift Valley terroir yields the world's best coffee, we see potential for growing exceptional crops here."
Crimson Cup funded the new Quality Lab in partnership with Kyagalanyi Coffee Ltd., one of the oldest and largest licensed coffee exporters in Uganda.
"Kyagalanyi is committed to making Ugandan coffee more profitable and sustainable," Bir said. "Their Sustainability Team recruits farmers and teaches them better propagation techniques such as pruning and mulching."
The Quality Lab offers another step toward a sustainable future for these farmers. It has two rooms. One houses a sample coffee roaster. The other, a sensory analysis and cupping lab to brew, taste and analyze the coffee samples.
"Under the current process, coffee is visually inspected and then sent to the exporter and dry mill in the capital city of Kampala," Bir said. "There, the coffee is sample roasted, cupped and sorted into different qualities.
"There has been no way for individual farmers to know how their coffee scores in terms of quality," he said.
The new lab enables the community to taste each farmer's coffee separately. It has a goal of tasting 900 farmer lots in the first year.
"Eventually, we believe this will enable farmers with superior coffee to earn a higher price," Bir said.
In January, Bir set up the new lab and taught four agents from Kyagalanyi's Sustainability Team to prepare and cup coffee. He then observed them train 28 other agents, giving feedback as needed. This team of 32 agents will operate the lab.
Crimson Cup has been working with these Ugandan farmers since 2018. It signed the first contract with Kyagalanyi after Bir's initial visit. In 2020, it purchased two containers of coffee, which will be used in blends.
"We're hoping the quality lab eventually yields some lots that we can feature at our brew bar," Bir said.
Besides crop cultivation, he said Crimson Cup is impressed with Kyagalanyi's plans to improve home and community life for coffee farmers. "For example, they push programs for household equality and keeping kids in school."
Ubert started the company's Friend2Farmer initiative in 2011 after observing that many coffee-growing communities remained mired in poverty despite decades of certification programs like Fair Trade.
"We believe the best way to get awesome coffee is to invest in the people who grow it," Ubert said. "Today, we're making an impact via over 60 farmer and co-op relationships around the globe."
Friend2Farmer coffees helped Crimson Cup win a 2020 Good Food Award winner and the 2019 Golden Bean Championship for Small Franchise/Chain Roaster.
Through Friend2Farmer, the company pays an above-market price for coffee and invests in efforts to drive social, economic and environmental impact. Company coffee experts travel over 100,000 miles each year to nurture meaningful relationships.
About Crimson Cup Coffee & Tea
Columbus, Ohio coffee roaster Crimson Cup Coffee & Tea is a 2020 Good Food Award winner, 2019 Golden Bean Champion for Small Franchise/Chain Roaster and Roast magazine's 2016 Macro Roaster of the Year. Since 1991, Crimson Cup has roasted sustainably sourced craft coffee in small batches. It sells coffee to consumers and distributes wholesale coffee beans.
Through its 7 Steps to Success coffee franchise alternative program, the company teaches entrepreneurs to run successful coffee houses. By developing a coffee shop business plan, entrepreneurs gain insight into how much it costs to open a coffee shop.
Crimson Cup coffee is available through over 350 independent coffee houses, grocers, college and universities, restaurants and food service operations across 38 states, Guam and Bangladesh. The company also operates several Crimson Cup Coffee Houses. To learn more, visit crimsoncup.com, or follow the company on Facebook, Instagram and Twitter.