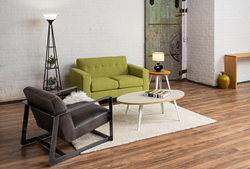 The furniture industry is going to evolve into a circular economy and TXTUR is on the forefront.
ROANOKE, Va. (PRWEB) September 09, 2020
Imagine deciding on that new sofa or dining table purchase knowing it doesn't have to be forever, that you can exchange it for another one, or even the exact same style in a different color or finish with no waiting when you move or redecorate, and that it doesn't have to get discarded even when your family is through with it for good. American furniture manufacturer TXTUR has made all of that and more possible with its new direct-to-consumer furniture ownership concept: Upcycling. "We create stylish, comfortable, truly high-quality furnishings and make ownership easy, flexible and changeable while substantially lowering environmental impact," says TXTUR President Greg Terrill.
Upcycling is a new business model that brings fun and freedom to choosing and living with home decor. TXTUR customers have the freedom to update their look, or even to move without moving their furniture simply by returning the pieces to the company for a credit towards new pieces. At TXTUR's Roanoke workrooms, returned furnishings are disassembled and remade into like-new furniture in popular finish combinations and available as Upcycled Stock for discounted sale. The process reduces environmental impact through reusing materials at their highest value and keeping them out of the landfill. "It's no secret that we live in a throwaway society. Over 12 million tons of furniture end up in US landfills every year, and very soon the furniture industry is going to have to evolve into a circular economy and we're excited to be on the front lines of that, setting an example, starting now." Terrill says.
The furniture is designed to have a timeless feel, to go with its enduring craftsmanship and top-notch finishes. TXTUR has launched its offering with a broad array of wood and upholstered seating as well as many unique tables. Collections fall into three aesthetic categories:
Modern Lodge is streamlined for lovers of mid-century modern in a palette of rich neutrals.
Ocean Scenes brings a coastal vibe with white and whitewashed wood finishes and sunny, bright accents.
Urban Loft offers a sophisticated and slightly deeper and warmer palette such as antique brass, warm tones and dark leathers.
In keeping with the company's devotion to quality and durability, they have partnered exclusively with two of the top names in upholstery materials: textile-upholstered items feature all Crypton Home performance fabrics while leather pieces feature Moore and Giles aniline died leathers. Designers enrolled in TXTUR's trade program will also be offered the option of COM (customer's own material).
Upcycling is the natural outcome of Terrill's desire for real sustainability, a commitment to make high-quality, durable furnishings and most of all to make the entire process enjoyable to people. He points out that a downside to making major, long-term commitments to well crafted, quality home furnishings is that the process itself can make people feel stressed out – the last thing they need in a topsy-turvy 2020. Simultaneously the speed and ubiquity of trends via digital media mean people's tastes are changing more quickly than ever. And now that many Americans can and do work from home, more people are moving more often. Some major direct-to-consumer brands in the furniture market have come forward with solutions, but Terrill saw issues. First, he points out, "There's no integrity in fast-fashion furniture, it's purposefully made not to last, so forget sustainability and sometimes the design suffers, too." The other popular d-to-c option, subscription furniture, "It feels borrowed or like a rental, something anyone can have, it is missing the component of being made to order and of ownership," says
Terrill's company, Chervan Furniture, has been designing and making extremely high quality commercial and hospitality furnishings on a private label basis for decades. With the launch of TXTUR he is leveraging that deep expertise in design, fabrication, customer service and logistics to offer consumers a new and thoughtful high-end furniture experience at a very palatable price point.
In coming months, TXTUR will add several more categories of furnishings including case goods and even dog beds. Learn more and explore Upcycling at http://www.txtur.com.