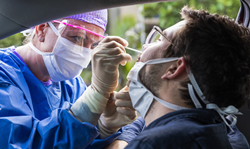 The test uses just a drop of blood, similar to checking blood sugar, to determine whether a person is likely immune to or has been exposed to COVID-19 or not.
CLEARWATER, Fla. (PRWEB) October 28, 2020
The improper use and application of COVID-19 nasal swab PCR tests are endangering people's health, while rapid antibody tests are giving too many false negatives and delaying the reopening of American businesses. The United States economy is still operating about 20% below where it was in early March(1) and experts don't anticipate any major economic traction until 2021.(2) Getting Americans back to work safely is key to the country's economic recovery. To do so, says USA Rapid Test, a fast, safe, and definitive COVID-19 on-site protocol for testing needs to be available for every business owner.
"The current method of testing, nasopharyngeal tests, or nasal swab tests are often administered by people with little to no formal medical training. In addition to the harm they could cause the individual, this inappropriate handling of the nasal swab has resulted in discomfort and injury," said David Lee Jensen, Chief Executive Officer at USA Rapid Test. Improper testing may cause a host of issues like stabbing pain, watery eyes, persistent inflammation, damaged septum and even harm to the delicate tissues that help with the sense of smell.(3)
Stalled Economy
While it seemed as though the economy was making progress, much of that initial recovery has stalled as COVID-19 cases start climbing again.(2) COVID-19 cases are now at the same levels as they were in July(4), and many of the temporary job losses and business closures are now becoming permanent.(4) New jobless claims are up to the highest level since late August, with almost 900,000 people filing for unemployment benefits.(5) And federal assistance for individuals and business owners is waning—already, 88% of U.S. small business owners have exhausted Paycheck Protection Program loans designed to help keep their workers employed.(6)
To jumpstart the economy and get Americans back to work, quick and accurate testing to determine who stays and who goes home is of the utmost importance. It's the best way to assure patrons and the general public that a business is safe. What is needed is a COVID-19 test that delivers on-site testing with extremely accurate results without the use of a potentially harmful nasal swab. "Our Rapid Antibody Test is completed within 15 minutes with a near-perfect accuracy.(7) The test uses just a drop of blood, similar to checking blood sugar, to determine whether a person is likely immune to or has been exposed to COVID-19 or not," Jensen said.
The company suggests implementing a protocol where the Rapid Antibody Test is used to screen all employees and they also offer an FDA Emergency Use Authorized (EUA) Oral Rinse PCR test which provides the same confirmatory information as a nasal swab while being far less invasive and uncomfortable for those tests appearing to confirm a virus. The oral rinse test is simple—just swish less than an ounce of liquid in your mouth, deposit back into the tube and seal—once submitted to the laboratory, results are made available within 24 to 48 hours.
Made in The USA
"There's a lot of misinformation out there about coronavirus testing, however the bottom line is that we have to have some way to get our economy growing again. Tests need to be safe and provide an efficient way to know which employees may be infected and which aren't. Business owners need the right tests and information to reopen safely and confidently," Jensen says"
While other companies are developing so-called "rapid COVID-19 tests", many have been plagued by accuracy concerns.(8) In other cases, tests are marketed as "made in the USA", but they're manufactured from parent companies located in other countries, such as China, and then reassembled—in many cases incorrectly—in the U.S. Unlike these products, all USA Rapid Test products are fully manufactured in Ohio. Plus, over 700 test results submitted to the U.S. Food and Drug Administration confirm their accuracy.(7)
American-made COVID-19 testing products, provided to our businesses nationally, are essential for getting employees back to work and stimulating the country's economic recovery but using the wrong test can hurt employees and provide non-accurate results, which could endanger an entire workforce. Having a protocol can ensure a safe, confident approach to re-opening.
About USA Rapid Test:
USA Rapid Test is the Clearwater, FL. based distributor of the Rapid Antibody Tests and the Oral Rinse PCR Test to enable the safest and fastest way to test any individual for the COVID-19 virus. The Rapid Antibody Testing yields results in 15 minutes or less and the oral rinse reporting results in 24 to 48 hours—from their laboratory. The antibody tests have a Supreme Test accuracy of 100% Sensitivity and 99.2% Specificity. Both products are entirely made in the USA under a CLIA-H (High Complexity) Laboratory. USA Rapid Test's mission is to give American business owners the ability to test their employees quickly, safely and confidently in order to get America back to work once again. For more information, visit http://www.usarapidtest.com.
1. "Tracking America's Recovery." CNN, Cable News Network, 2020, cnn.com/business/us-economic-recovery-coronavirus.
2. Zandi , Mark. "Opinion: Why the US Economy Won't Gain Any Traction until 2021." CNN, Cable News Network, 21 Oct. 2020, cnn.com/2020/10/21/perspectives/us-economy-pandemic-recovery/index.html.
3. Cummins, Eleanor. "Why Some People's Covid-19 Tests Hurt More Than Others." Medium, Elemental, 4 Aug. 2020, elemental.medium.com/why-some-peoples-covid-19-tests-hurt-more-than-others-64bcf7aea3bf.
4. Stewart, Emily. "How America Gave up on Fighting the Pandemic and Saving the Economy." Vox, Vox, 19 Oct. 2020, vox.com/21523204/coronavirus-unemployment-stimulus-economy.
5. Chaney, Sarah, and Gwynn Guilford. "U.S. Jobless Claims Rose to 898,000 Last Week." The Wall Street Journal, Dow Jones & Company, 15 Oct. 2020, wsj.com/articles/weekly-jobless-claims-coronavirus-10-15-2020-11602714104.
6. Radicioni, Brianna. "Research: The Real Impacts of COVID-19 on Small Business." Babson Thought & Action, 29 Sept. 2020, entrepreneurship.babson.edu/small-business-covid-research/.
7. fda.gov/media/136113/download | Accessed 27 October 2020
8. Commissioner, Office of the. "Coronavirus (COVID-19) Update: FDA Informs Public About Possible Accuracy Concerns with Abbott ID NOW Point-of-Care Test." U.S. Food and Drug Administration, FDA, 2020, fda.gov/news-events/press-announcements/coronavirus-covid-19-update-fda-informs-public-about-possible-accuracy-concerns-abbott-id-now-point.