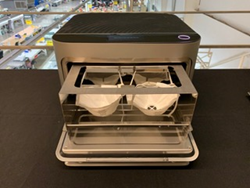 "Our professional staff was relieved to find a decontamination device that effectively disinfects their masks and PPE. And when we considered the financial impact of having a member of our staff out with a 14-day quarantine, the N9500 was the perfect solution. " -- Dillard Dental Services
DALLAS (PRWEB) October 05, 2020
Hepius Equipment announces the availability of the N9500 Decontamination Device. Designed in conjunction with the medical staff of Parkland Hospital in Dallas, Texas, the N9500 is an FDA Listed Class I medical device designed to save time and money by allowing the reuse of N95 masks and Personal Protection Equipment (PPE). This easy-to-use sanitizer – previously available only to hospital facilities – is now being rapidly made available for schools, hotels, dental offices, long-term care facilities and other consumer facing industries.
The Hepius N9500 has been demonstrated to disable viruses with a 99.9% antimicrobial efficacy* making it especially effective in decontaminating N95 respirator masks as well as other PPE including full face shields. Repeated use of the N9500 to decontaminate masks does not affect filtration effectiveness or fit. The N9500 is available for sale in the US and for US Export.
The convenient Hepius N9500 Tabletop disinfector uses Ultraviolet Germicidal Irradiation (specifically UVc light) to inactivate and destroy pathogens. UVc disinfection damages the DNA and genetic makeup of the organism causing inability to replicate and/or cell death.
Built and certified in the USA to exacting standards, the Hepius N9500 is designed for PPE and is engineered to decontaminate 240,000 masks before first required maintenance.
The Hepius N9500 Advantage:

Removes growing uncertainty of N95 mask and PPE supply issues
Minimizes financial loss from potential 14-day quarantine of staff and personnel
Avoids polycarbonate breakdown associated with harsh cleaning solutions
Is more cost effective than throw-away masks
Environmentally friendly while reducing medical waste
*Microchem Laboratory testing funded by Hepius Equipment.