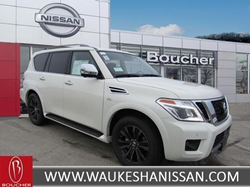 WAUKESHA, Wis. (PRWEB) July 21, 2020
Boucher Nissan of Waukesha currently has seven vehicles available in the July New Vehicle Specials that the dealership is offering. These seven vehicles include a 2019 Nissan Altima 2.5 Platinum, a 2019 Nissan Kicks SR, a 2020 Nissan Armada Platinum, a 2020 Nissan Murano S, a 2020 Nissan Rogue Sport S and two 2020 Nissan Versa 1.6 SV models. Customers can contact the staff at Boucher Nissan of Waukesha to learn more about these seven vehicles.
The 2019 Nissan Altima is listed for $31,949, which includes a dealership discount of $4,096. The 2019 Nissan Kicks is available for a lower price of $17,295. This price includes a $3,860 dealership discount along with two Nissan discounts totaling $1,250.
Additionally, the 2020 Nissan Armada, the 2020 Nissan Murano and the 2020 Nissan Rogue Sport are currently listed for $55,895, $27,849 and $21,299 respectively. The 2020 Armada features a dealership discount of $8,195 and $2,000 of Nissan Customer Bonus Cash. The 2020 Murano offers a total discount of $7,736 and the 2020 Rogue Sport features a total discount of $4,846. Both of these total discounts include both dealership discounts and Nissan Customer Cash.
Finally, the two 2020 Nissan Versa models are available for less than $18,000. One of the two 2020 Versa models is listed for $17,899 and features a total discount of $1,476, while the other 2020 Versa model is available for $17,599 and includes a total discount of $1,511.
To learn more about the Boucher Nissan of Waukesha New Vehicle Specials, customers should contact the dealership directly. Customers can contact the dealership by phone at 800-504-6619, online at http://www.waukeshanissan.com, or in person at 1451 East Moreland Boulevard in Waukesha, Wisconsin.