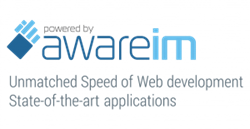 With Aware IM developers can create applications in the fraction of the time compared to other development tools and platforms
Sydney, NSW (PRWEB) September 22, 2020
Awaresoft, the developers of Aware IM today announced the release of version 8.5 - the latest generation of their powerful low-code development platform, that helps web developers create comprehensive web database applications for desktop, tablets or mobile phones.
Aware IM developers can accomplish in a few hours what it would take days or weeks to do using traditional web application development tools or other low-code development platforms. Applications created with Aware IM can run on any platform (Windows, Linux, Mac) and can be deployed either in the Cloud as SaaS or on premises.
Aware IM version 8.5 builds on the success of the previous versions and adds better offline capabilities, ability for end users to define their own dashboards and many improvements that Aware IM developers have been asking for.
"Aware IM is a perfect tool for those organisations and developers who have spent time and money building complex web database applications and been limited by budget and time constraints. With Aware IM those organisations and developers can create applications in the fraction of the time compared to other development tools and platforms. With version 8.5 we have implemented the wishes of many Aware IM developers. The Aware IM platform is now more robust and powerful than ever" - said Nachman Chefner, Head of Aware IM Europe.