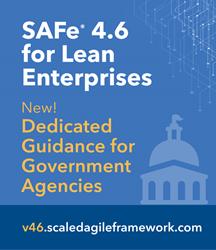 SAFe is now being used in dozens of programs across a large number of government agencies with remarkable results.
BOULDER, Colo. (PRWEB) October 03, 2018
Scaled Agile, Inc., provider of the leading framework for enterprise agility, today announced the general availability of SAFe® 4.6 for Lean Enterprises. A key feature of the new release helps public sector organizations become faster and more flexible when developing and delivering technology solutions through the practice of Lean, Agile, and DevOps.
"SAFe is now being used in dozens of programs across a large number of government agencies with remarkable results," said Dr. Steve Mayner, SAFe Fellow and Principal Consultant at Scaled Agile. "While we've found that there are more similarities in development between industry and government than there are differences, we also know that the people leading these transformations are hungry for guidance that addresses those differences. We're meeting that need in SAFe 4.6 where government is given top-level visibility in the Framework, and a new section in the SAFe knowledge base addresses their unique concerns."
Government adoption of Lean and Agile has accelerated to the point where most programs—80%+ in the U.S. according to a 2017 Deloitte study—are self-reporting some form of iterative development. However, these practices are often limited to development teams and do not address the program and portfolio challenges of strategy alignment, budgeting, project-centric planning, acquisitions, governance, compliance, and more. SAFe's new guidance for Government, combined with the upcoming SAFe® for Government course, provides agency leaders with the tools to overcome common barriers to adopting Lean, Agile, and DevOps, enabling better results for taxpayers.
SAFe 4.6 provides specific recommendations that align with the new era of innovation in government, some which were drawn directly from guidance authored by federal agencies such as the U.S. Government Accountability Office (GAO), General Services Administration (GSA), Office of Management and Budget (OMB), and more. Each area of guidance addresses the most common challenges adopting SAFe in government programs, and the best practices that support transitioning to a Lean-Agile model:

Building on a solid foundation of Lean-Agile values, principles, and practices
Creating high-performing teams of teams of government and contractor personnel
Aligning technology investments with agency strategy
Transitioning from projects to a Lean flow of epics
Adopting Lean budgeting aligned to value streams
Applying Lean estimating and forecasting in cadence
Modifying acquisition practices to enable Lean-Agile development and operations
Building in quality and compliance
Adapting governance practices to support agility and Lean flow of value
Below is the schedule for the SAFe 4.6 release:
October 3, 2018
November 14, 2018
The SAFe 4.6 website will relocate to scaledagileframework.com
Scaled Agile's SAFe 4.6 role-based courses become available
The SAFe 4.5 website will move to v45.scaledagileframework.com
About Scaled Agile, Inc.:
Scaled Agile, Inc., is the provider of SAFe®, the world's leading framework for enterprise agility. Through learning and certification, a global partner network, and a growing community of over 300,000 trained professionals, Scaled Agile helps enterprises build better systems, increase employee engagement, and improve business outcomes. Scaled Agile is a contributing member of the Pledge 1% corporate philanthropy and community service movement. Learn about Scaled Agile and SAFe at scaledagile.com and scaledagileframework.com.