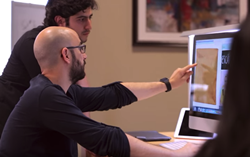 "Successful branding needs to be a uniform expression of the company's or brand's DNA."
IRVINE, Calif. (PRWEB) November 26, 2019
Flexing its prowess over a wide range of media for the 2019 award season, boutique branding agency Twelve12 has walked away with recognition in web design, social media, and video production from four of the most prominent global creative award organizations.
Winning 4 awards total, Twelve12's biggest winner of 2019 was its commercial introducing the world to SOLD.com, a start-up real estate tech company that uses AI info to pair home sellers with their best home selling option. The winning video uses humor, action, and even stunt glass to introduce and explain a complex online service. Winning best online video from the Internet Advertising Competition (IAC), A Rose Gold from the Muse Creative Awards, and two Tellys gives just recognition to the video, which the Twelve12 team created from the ground up.
In web design, Twelve12 won two Hermes awards: A platinum for the custom website it created for Union Credit Corp (UCC) and a Gold for its artful custom site for VantaQuest, an Orange County wealth management firm.
Finally, Twelve12 was recognized with another Platinum Hermes award for its creative social media art campaign for DTA (David Taussig & Associates), a long-time leader in public and private finance. Twelve12 completed a full rebrand for the company, and this social media content was yet another mode for bringing that new brand to the world.
End-to-End
While numerous agencies claim to fill all of their clients' needs, even while outsourcing work to other agencies, Twelve12 offers truly end-to-end solutions, which means the client can rely on Twelve12 to take care of any need in the areas of branding and marketing. The advantage of this is that Twelve12 is empowered to realize the vision of the organization in a more holistic way.
The quality of work displayed, as well as its diversity, is a testament to Twelve12's commitment to delivering unified branding for each of its clients. Twelve12 Director Ike Elimsa explains: "Successful branding needs to be a uniform expression of the company's or brand's DNA. When work is split up, there is more risk of losing touch with the brand. It's encouraging to receive awards across the spectrum of the media we create for our clients."
About Twelve12
Specializing in strategic planning, branding and marketing, Twelve12 was founded in Orange County with the mission to help companies grow. Twelve12 regularly assists companies develop across a wide spectrum of traditional and non-traditional marketing venues, producing a range of video content, digital and traditional marketing, and award-winning websites, always ensuring brands have a unified, unforgettable voice.
Learn More About the Awards
Telly Awards
Hermes Awards
Muse Awards
IAC Awards