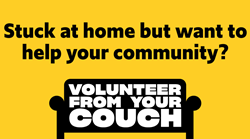 Right now, millions of Americans under stay-at-home orders are searching for ways to help their communities. Now there's a way to volunteer from your couch. Literally.
NEW YORK (PRWEB) April 30, 2020
Events platform Mobilize announces the launch of Volunteer From Your Couch (https://www.volunteerfromyourcouch.com/), a central hub of volunteer opportunities aiding community efforts in COVID-19 rapid response that can be done safely from home via computer or smartphone.
Right now, millions of Americans under stay-at-home orders are searching for ways to help their communities. At the same time, organizations engaged in crucial coronavirus relief work are desperate for more volunteer help. Volunteer From Your Couch connects the two.
Citizens can browse and sign up for activities like phone and text banking to check in on vulnerable neighbors, ensuring they have enough food and medicine or providing resources for unemployment benefits and other emergency financial aid. These virtual volunteer shifts are created and hosted by nonprofits like Meals on Wheels, No Vet Alone, and When We All Vote, as well as political leaders like Alexandria Ocasio-Cortez and Joe Biden.
As coronavirus began to rapidly unfold across the country, Mobilize moved quickly to transition the more than 1,000 organizations using its platform for civic engagement from in-person events to virtual meetups, volunteer trainings, and peer-to-peer outreach through digital channels.
Mobilize CEO Alfred Johnson says, "We immediately recognized the need to help nonprofits maintain momentum during this critical time. At the same time, we saw tremendous energy from volunteers on our platform seeking ways to help. We created Volunteer From Your Couch to serve as the central hub that connects volunteers and organizations working together for covid-19 rapid response."
Meals on Wheels Southwest OH & Northern KY delivers food to, and combats social isolation among, homebound senior citizens. This regional affiliate acted creatively and swiftly in response to coronavirus, identifying seniors in their community they don't yet serve and using Mobilize to schedule phone bank outreach to see if anyone needs food or other assistance.
"Within our first few calls, we connected with a woman whose daughter was no longer able to bring her food because of COVID-19 layoffs, and we were able to add her to our delivery list the next day," says Jennifer Steele, Executive Director of Meals on Wheels Southwest OH & Northern KY. "This new outreach initiative allows us to identify seniors who may not know how to get help, so that we can deliver food directly to their doors."
No Vet Alone works to reduce suicide among military veterans and first responders. Renata Sahagian, Chief Experience Officer, says, "The added stress, anxiety, isolation, and uncertainty created by this global pandemic is only making things more difficult for these men and women. It was crucial that we bring our programming, including happy hours and wellness seminars, online immediately to keep our community connected."
Mobilize is currently providing free use of its core platform to nonprofits on any COVID-19 relief volunteer mobilization efforts through May 31. As more organizations begin use of the platform, new volunteer events are created and added every day.
ABOUT MOBILIZE: Mobilize is the leading events management and volunteer recruitment platform, connecting mission-driven organizations and supporters. It is used by nearly 2k organizations nationwide to engage supporters through trainings, events, fundraising and community outreach. Since Mobilize was founded in 2017, more than 1.7 million people have signed up to take 3.3 million actions through the platform. Mobilize is based in New York, NY with offices in Washington, DC.
Nonprofits doing covid-19 relief work can sign up at https://join.mobilize.us/free-access-for-covid-19.
Volunteers can find opportunities at volunteerfromyourcouch.com.