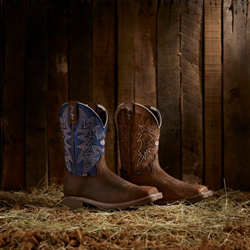 FORT WORTH, Texas (PRWEB) February 24, 2023
Justin Boots is excited to announce the release of new waterproof boots in the George Strait collection. These boots are designed to keep feet dry and comfortable in wet conditions without compromising on style.
The George Strait collection is a collaboration between Justin Boots and country music legend George Strait, featuring classic western designs and high-quality materials. The new waterproof boots are no exception, combining functional features with style.
The 11" Dusty boots from the George Strait collection feature cowhide leather, which is treated with a special waterproofing membrane to keep water out. The breathable construction also allows for ventilation, so feet stay cool and dry all day. These boots also have a durable rubber outsole, which provides excellent traction on wet or slippery surfaces. The Dusty boots feature a square toe, a walking heel, and a King Comfort Insert for all-day comfort.
"Justin Boots has always been committed to creating boots that combine style, comfort, and function," said Shelbi Tidwell, Product Designer at Justin Brands, Inc. "With the new waterproof boots in the George Strait collection, we're taking our commitment to the next level. These boots are perfect for anyone who wants to stay dry and comfortable in wet conditions, while still looking great."
The new waterproof boots in the George Strait collection are available now at select retailers and online at JustinBoots.com.
About Justin Boots
Justin Boots is a brand of western footwear that was founded in 1879 by H.J. Justin. The company is headquartered in Fort Worth, Texas, and produces a wide range of boots for both men and women, including cowboy boots, work boots, and casual shoes. Justin Boots is known for its high-quality craftsmanship and use of premium materials, and has a reputation for being a trusted brand in the western footwear market.
For more information, visit justinboots.com.
Facebook: @JustinBoots | Twitter: @JustinBoots | Instagram: @JustinBoots_