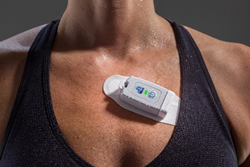 MANLIUS, N.Y. (PRWEB) February 03, 2021
Global Instrumentation, LLC, announced today the FDA has cleared the company's ultra-small wearable electrocardiogram (ECG) sensor, the M5 Recorder. The device offers research organizations and physicians a reliable, shower-proof, and patient-friendly ECG sensor for precise long-term ECG data collection in the patient's home and ambulatory environments.
"We were seeing increased demand from our partners in clinical research and ambulatory remote monitoring for a wearable device that would fully integrate with our M12A Enterprise software platform for longer-term ECG data collection in a patient's or study subject's real-world environment," said Jim DeMaso, President, Global Instrumentation, LLC. "We knew we had to deliver a sensor that patients would find easy and acceptable to wear for one to three weeks while not sacrificing the quality of ECG data required for cardiac safety and diagnostic use."
Fast Facts:

The M5 Recorder is water-resistant and weighs only 26 grams yet can store up to 21 days of 3-channel ECG recordings.
The discreet device is used in tandem with the flagship M12A Enterprise software platform, leveraging the software's full cardiac data management and analysis capability for clinical-grade remote ECG data collection.
Unlike many other long-term ambulatory recorders, the M5 can be worn with a patch electrode or small, lightweight patient cables utilizing 2 to 5 standard electrodes, providing new levels of flexibility for varying ECG assessment needs.
It is configurable for sample rate, channels, and duration followed by extensive EGC analysis and report generation capability at the conclusion of the study.
In any configuration chosen, electrodes can be replaced by the patient during a study with no disruption to data collection or the requirement to return to a facility to extend the recording period.
"We have found the small size of the M5 that is worn-under clothing is very helpful for studies that involve multi-day recordings, like our current study focused on repolarization in long QT syndrome patients that requires multiple 7 day ambulatory ECG recordings" said Wojciech Zareba, MD, PhD, FACC, FESC, Professor of Medicine (Cardiology), Clinical Cardiovascular Research Center-University of Rochester Medical Center.
Global Instrumentation, LLC is a leading provider of high-performance ECG monitoring devices and secure cloud-based analysis tools to the clinical research and healthcare sectors, and will be rolling out additional clinical parameters and remote monitoring capabilities later in 2021.
Learn more at http://www.gi-med.com.
About Global Instrumentation:
Global Instrumentation, LLC (gi-med.com) provides customized cardiac diagnostic and monitoring solutions to clinical researchers, cardiac monitoring service providers, and medical technology developers seeking precision ECG data collection and flexible data management tools. Through our proven research, design, and innovation capabilities, we partner closely with our customers to help enable the delivery of better healthcare. Global Instrumentation was founded in 2002 and is based in Manlius, NY.
Media Contact: Doug Linquest
Vice President, Marketing & Business Development
Doug.Linquest@gi-med.com or 315-682-0272 ext. 122