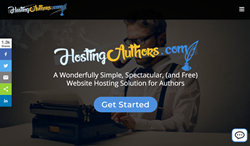 I assembled easy-to-use site builder tools that make it fast and easy for any author to build a beautiful site—even if they don't know a single line of code.
SUDBURY, Mass. (PRWEB) February 25, 2020
Book marketing experts today agree that author websites remain an indispensable tool in any author's toolbox. Unfortunately, many authors still have not claimed a space of their own on the web, often citing expense or lack of technical knowledge. The introduction of HostingAuthors.com, a new platform for authors and their books, solves these problems for authors everywhere.
HostingAuthors.com provides a free website builder and hosting platform for authors in all genres. Entrepreneur, programmer, web developer and social psychologist Bo Bennett, the author of over a dozen books, and the owner of self-publishing service eBookIt.com, crafted the new service with the wants and needs of authors in mind.
"As an author myself, there are certain things that I know are just essential for an effective web presence," says Bennett. "I am using this platform to host sites for each of my own books, and I also have a central 'author website.' In building the platform, I considered all of my books, across several genres, and I included everything I could possibly want in a book website. I then assembled easy-to-use site builder tools that make it fast and easy for any author to build a beautiful site—even if they don't know a single line of code."
The free version offers features including About the Book and About the Author sections, an Author Contact form for site visitors, Reviews, Press/Media, Social Media links, and more. Authors can choose from preset color themes, or customize the colors to match their preferences or branding.
"We are launching with a 'freemium' model," says Bennett. "I expect the vast majority of authors will choose the free service, and a select group of authors will choose to upgrade to one of our premium levels, and take advantage of the additional features such as mailing lists, real-time visual statistics, blogs, and even podcast hosting. And yet some authors might also choose to leverage their time by ordering our reasonably priced done-for-you site set-up service."
To introduce how quick and simple it is to create a site on the platform, Bennett created a twenty-five minute demonstration video, where he set-up a site for one of his books in real-time. The video is available to users right after they create a free account.
"The video gives authors a chance to peek over my shoulder—going from zero to professional web presence in less than a half hour," says Bennett. "It's exciting to see the new sites that authors create after seeing they really can do this, too."
Free book websites are available to authors of all genres at HostingAuthors.com.  
                                                                                                                                                         
About Hosting Authors
Created by the CEO of Archieboy Holdings LLC and eBookIt.com, HostingAuthors.com offers free book websites for authors of all genres. With an easy-to-use web builder, HostingAuthors.com can help even the self-proclaimed "technically-challenged author" get a professional looking website up and running in no time. In addition to the free book websites, HostingAuthors.com offers premium packages with more tools and options, and also offers done-for-you site set-up services.