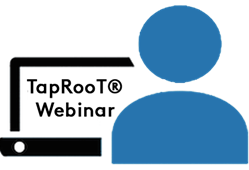 Many people are taking advantage of TapRooT® webinars during this uncertain time, and have registered for multiple topics. Make a strong comeback! Learn something new, strengthen skills, become an expert, and don't waste time.
KNOXVILLE, Tenn. (PRWEB) August 17, 2020
System Improvements Inc. is pleased to share the news of its TapRooT® Root Cause Analysis Webinars, and the value that the webinars are providing our clients.
TapRooT® Root Cause Analysis clients know that using TapRooT® System helps them achieve the best root cause analysis results. They also know that to continuously improve, they need continuing training.
During the pandemic, System Improvements has found TapRooT® clients—as well as people new to TapRooT® Root Cause Analysis—eager to participate in an easy way to get some continuing training without traveling: webinars. What you learn in a webinar is business-critical and can change the trajectory of your career. It's the small, consistent investment of focused resources that makes the difference.
Upon completion of a webinar, attendees will receive a certificate of completion. Webinars are 90 minutes, guided by TapRooT® instructors who are subject matter experts.
Among the topics for the TapRooT® webinars are:

The New Causal Factor Worksheets Webinar:
Four new worksheets help in being more thorough in identifying Causal Factors while saving time. This 90-minute webinar explains the worksheets and affords practice using the worksheets to identify Causal Factors.

Grading Investigations for Better Root Cause Analysis:
Learn a consistent way to evaluate investigations and coach investigators to improve skills; provide management with better incident investigations, root cause analysis, and corrective actions; and, measure the improvement of investigations over time.

Performing an Investigation Using the TapRooT® Software Webinar:
Are you ready to optimize investigations? This webinar is about TapRooT® Root Cause Analysis Software. Join to practice creating and documenting investigations with ease.
For details or inquiries about TapRooT® webinars or the TapRooT® System, call System Improvements Inc. at 865-539-2139, or contact us online at http://www.taproot.com/contact/. Learn more about TapRooT® at http://www.taproot.com. You may purchase TapRooT® books through the TapRooT® Store.
About System Improvements Inc. – TapRooT®
Founded in 1988, TapRooT® solves hurdles every investigator faces. TapRooT® root cause analysis takes an investigator beyond his or her knowledge to think outside the box. Backed with extensive research in human performance, incident investigation, and root cause analysis, TapRooT® is a global leader in improved investigation effectiveness and productivity, stopping finger-pointing and blame, improving equipment reliability, and fixing operating problems.