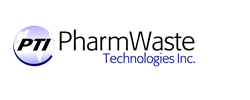 EPA Compliance is of the utmost importance. New pharmaceutical waste regulations are around the corner.
URBANDALE, Iowa (PRWEB) October 08, 2018
PharmWaste Technologies, Inc. (PTI), announced today they have expanded their website to include an entire section on The United States Environmental Protection Agency's (USEPA's) Proposed Management Standards for Hazardous Waste Pharmaceuticals (CFR Part 266 Subpart P). Once published by the USEPA, it will be titled "Standards for the Management of Specific Hazardous Wastes and Specific Types of Hazardous Waste Management Facilities."
There are nearly 200,000 facilities across the United States that will be affected. Impacted facilities include but are not limited to: hospital pharmacies, retail pharmacies, veterinary clinics, dental offices, chiropractors, coroner's offices and nursing care facilities just to name a few. The website was designed to help these types of entities navigate through the complex area of pharmaceutical waste management as it pertains to the new regulations. The website will be updated once the official regulations are published which according to EPA's 2018 Spring Agenda will be sometime this month.
"Pouring through regulations can be a tedious process." said Jeff Hollar, President of PharmWaste Technologies. "Our goal is to provide a simple, but precise overview of the regulations to assist not only our customers, but others in the industry as well. Additionally, with the tools we have available to our customers, compliance will now be easier than ever." Says Hollar.
About PharmWaste Technologies
Since 2007, PharmWaste Technologies Inc. has been an industry leader in providing solutions surrounding the complex area of pharmaceutical waste through a combination of industry experience and innovative solutions. Services include: RCRA hazardous drug identification, DOT hazardous drug identification, pharmaceutical waste disposal, policies and procedures, training modules and waste management compliance programs.
PharmWaste Technologies also partners with some of the largest waste disposal vendors in the healthcare industry. Medical Waste, Bio-hazardous, Sharps and RCRA Disposal companies rely on their expertise in creating highly successful pharmaceutical waste disposal programs for their customers.
Jeff Hollar
515-360-9785
http://www.pwaste.com/EPA-Subpart-P