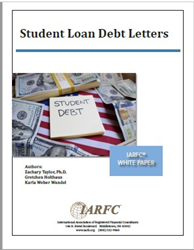 The IARFC continues to make available financial topics of interest through its distribution of white papers. This research on Student Debt Letters will help consultants understand the process their clients go through when dealing with student loans...Susan Cappa, IARFC Public Relations.
MIDDLETOWN, Ohio (PRWEB) December 07, 2021
As the student loan debt crisis has continued to gain national attention from higher education leaders, education policymakers, and the media, states have begun mandating that institutions send student loan debt letters to any current or former student with outstanding student loan debt. Preliminary studies of the effectiveness of student loan debt letters have been mixed, but these studies have not analyzed how institutions have composed student loan debt letters at the word-, sentence-, and document-level.
As a result, this study gathered six student loan debt letters sent by different institutions across the United States and analyzed these letters for readability, cohesion, and lexical diversity. Results suggest student loan debt letters have been written in drastically different ways and do not share common vocabulary, possibly confusing the debt repayment process for students. Implications for research and practice are addressed.
Using data from the 2017 U.S. Survey of Household Economics and Decision making (SHED), this study classifies student debt into three categories by beneficiary (self, spouse, and children) and examines the relationship between each category and financial well-being. The results show that the association of student debt with the financial well-being of borrowers is negative and significant, regardless of whether the loan is used to finance the education of the borrower, spouse, or children.
The white paper further provides evidence that the marginal effect of student debt on the financial well-being of the borrower is substantial when the debt is used to finance the ed¬ucation of children rather than the education of the borrower or the borrower's spouse. The implications of the study for practitioners are discussed.
This publication is free and can be accessed by going to the IARFC Store and downloading this White Paper along with prior papers.
If you have any questions or further inquiries, contact susan@iarfc.org, IARFC Public Relations for more information.