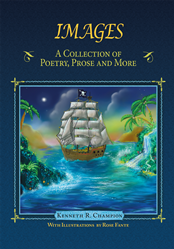 I hope readers will be informed and entertained while reading about the many adventures, romantic interludes, nature settings and challenges of life entailed in this literary effort
CITRUS HEIGHTS, Calif. (PRWEB) October 16, 2020
Author Kenneth R. Champion offers a literary buffet with Images: A Collection of Poetry, Prose and More ($19.99, dust jacket, 9781631299346; $8.99, e-book, 9781631299353).
Do you enjoy historical fiction? How about adventure? Romance? Poetry? No matter the kind of book you were hoping to curl up with this weekend, Champion's Images has something for you. Through sixty-five poems and prose offerings, two short stories, and two rap lyrics, he covers medieval chivalry, pirates, prospectors and lovers.
"I hope readers will be informed and entertained while reading about the many adventures, romantic interludes, nature settings and challenges of life entailed in this literary effort," said Champion.
Kenneth R. Champion is a retired State of California Transportation Planner and Chief Petty Officer, with combined military service in the U.S. Navy and U.S. Coast Guard Reserve. He resides in Citrus Heights, California with his wife, Linda, where they enjoy spending time with family members and friends.
###
Two Harbors Press, a division of Salem Media Group. Images is available online through amazon.com and barnesandnoble.com.