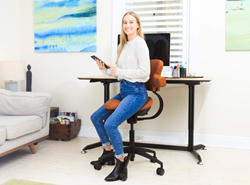 As a chiropractor treating an endless stream of patients suffering back pain, I noticed a 'sameness' to the symptoms. People are wearing out from spending large portions of their life sitting. I invented this chair to change the way people sit, and to break this inevitable back pain cycle.
CHARLOTTE, N.C. (PRWEB) November 13, 2018
Society has always been told to "sit up straight." For generations, people have sought after perfect posture while sitting. Unfortunately, regular chairs that maintain a 90-degree angle between the back and thighs do not allow people to sit up straight for long periods of time. It is impossible to achieve correct spinal positioning when sitting in a typical chair — the pelvis rolls backwards and the spine is forced to follow, which puts enormous strain on the back. To help change the way people sit, an experienced Australian chiropractor launches the Workhorse Saddle Chair, a chair designed to offer the same extended health benefits of standing by giving users ideal spine alignment and optimal comfort.
The specially-designed chair mimics a horse saddle, which helps ensure correct posture and relieve pressure on the spine, whether individuals are sitting at the bar or sitting at their desk. Today, Workhorse Saddle Chair launched a Kickstarter campaign in the hopes of raising $30,000 to help reduce back, neck and shoulder pain worldwide.
Experts estimate that up to 80% of the population will experience back pain at some time in their lives, and the founder of Workhorse Saddle Chair, David France, has been working to fix this since 2012. His chiropractic knowledge combined with equestrian experience led him to discover the ideal way to sit — on a horse saddle. He created a chair with a contoured saddle shape to allow for more than a 90-degree angle between the legs and back. By sitting in this optimal seated position, people will see an increase in productivity and an extended range of motion. Workhorse Saddle Chair also helps reduce muscle strain, headaches and weariness caused by sitting for long periods in the wrong position. The ergonomic chair is offered in a range of styles to function beautifully in any environment: workspaces, homes, offices, businesses and more.
"As a chiropractor treating an endless stream of patients suffering back pain, I noticed a 'sameness' to the symptoms people suffer," said France. "I would see the same wear and tear patterns when viewing their x-rays. The pain is caused by the ever-increasing time people spend sitting while working. People are wearing out as a result of spending large portions of their life sitting with their bodies under enormous strain. During my experiences riding race horses, I discovered the positive physical effects of spending time in a saddle. It took plenty of trial, error and refinement, but I invented the Workhorse Saddle chair to change the way people sit, and to break this inevitable back pain cycle."
This revolutionary way of thinking about society's sitting experience led France to create a whole range of chairs for every sitting experience. The chair is offered in seven different models to meet users' personal needs. Finished with A-Grade fabric, premium stretch vinyl or luxury leather (as well as custom finishes and colors), the line of chairs does not sacrifice style for comfort. The Workhorse Base, the most basic model, is a great place to start for those looking to try the Workhorse Saddle Chair before committing to a more deluxe version. The Workhorse Pro, the top-of-the-line model, is equipped with a back and armrest that can change positions, allowing users to easily switch their sitting position to increase blood circulation to muscles. This model is different than any other on the market with its unique design and patented rotating back rest. It is a great alternative, or addition, to popular standing desk options, perfect for home or work.
Workhorse Saddle Chairs are currently available for pre-order on Kickstarter, starting at $69.00 USD. For more information about the campaign or to place an order, visit pr.go2.fund/workhorse.
About Workhorse Saddle Chair
David France created the Workhorse Saddle Chair for people to experience better health, performance and quality of life. The veteran chiropractor with over 20 years of experience focused on treating patients' back pain, primarily caused by sitting in regular chairs for long periods. With equine experience and chiropractic knowledge, Dr. France discovered the ideal spinal position for optimal comfort and health benefits when seated in a horse saddle. He designed the Workhorse Saddle Chair to change the way the world sits. The product line contains various seating options to fit the needs of any environment. To learn more, visit https://www.workhorsechair.com/.