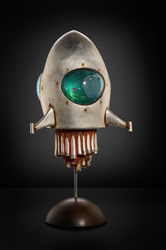 Both Artists have a unique approach to working with glass.
SANTA FE, N.M. (PRWEB) August 13, 2018
Blue Rain Gallery is pleased to announce an upcoming two-man show of new works in glass by husband and wife glass artists, Rik Allen and Shelley Muzylowski Allen. This show of new works is scheduled to take place August 31 – September 15, 2018 with an artist opening night reception on Friday, August 31st from 5 – 7pm.
Both of the Allen's are highly respected in their field for their unique approach to working with glass and their command of the medium.
Shelley Muzylowski Allen's hot sculpted, blown glass sculptures are comprised of majestic creatures such as horses, swans, bears, and other more exotic animals suspended in motion proudly showing their strength and beauty. Each piece masterfully combines color, pattern, and texture, through the use of glass powders and glass frit. Added elements such as horse hair, leather, steel, and stone nicely play off the glass and further allow these creatures to come alive for the viewer.
It is fair to say that Rik Allen loves science fiction! His glass and metal rocket ships and space creatures radiate with both a retro and futuristic vibe. These rustic containers for space travel are designed to share the artist's fascination with everything space, while also making us smile with delight. Small, yet defining touches such as a little red chair inside the space vessel that can be viewed through a bubbly glass window, or a tapered ladder that drops down for access on and off the shuttle are elements that metaphorically allow the viewer access into one of Rik Allen's delightful sculptures. Each piece has a patina that suggests age and multiple trips throughout the galaxy.
Blue Rain Gallery's forthcoming show of new glass sculpture is sure to excite collectors and enthusiasts of contemporary glass art. Please be sure to join us for the reception!