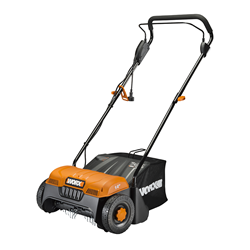 WORX 12 amp, 14 in. Dethatcher weighs only 18.6 lbs., and is easy and intuitive to handle.
CHARLOTTE, N.C. (PRWEB) August 21, 2019
The new WORX® 12 amp, 14 in. Dethatcher is a highly efficient, maneuverable, and affordable solution to the perennial problem of thatch build-up in small to mid-sized lawns up to ¼ acre. This electric, DIY yard tool quickly and vigorously dethatches, or scarifies, a lawn to remove compacted grass clippings, weeds and moss that prevent oxygen, moisture and nutrients from reaching roots and block drainage.
Alternative dethatching options are far from ideal. Hiring a lawn care service is pricey. Small lawns can be dethatched manually with a specialized dethatching rake – a sure recipe for a backache. Or the homeowner can rent a gas-powered dethatcher (aka verticutter), which is extremely heavy and awkward. A truck or utility trailer, plus the help of friends, are required to transport the beast to and from the job site.
In contrast, the WORX 12 amp, 14 in. Dethatcher weighs only 18.6 lbs., and is easy and intuitive to handle. It is powered by a robust 12 amp, 120V, 60 HZ, high-torque motor that develops no-load speeds up to 3500 rpm.
The electric dethatcher cuts a 14-in. swath in a single pass, allowing the project to move along quickly. Thatch and debris are caught in a detachable, 0.9 bushel (30L), collection bag for easy disposal.
Dethatching depth is set by pulling out and turning a large, three-position, depth-adjustment knob on the either wheel hub to raise and lower the tines. The first setting removes approximately 0.12 in. of thatch above the ground. The second setting removes 0.12 in. below ground level, while the third setting – the most aggressive – removes 0.35 in. below the ground. The first setting is recommended when first using the dethatcher or when transporting or storing the machine.
Starting the 12 amp, 14 in. dethatcher is a breeze. Just plug the power cord piglet into a 16-gauge, 3-wire, 50 ft. or 14-gauge, 3-wire, 100 ft., outdoor-rated, extension cord. Then press and hold down the safety lock-out button, while pulling back on the bail handle. Release the safety lock-out button and it's ready to go. The dethatcher's handle has a comfortable, padded grip and folds down for space-saving storage.
The eco-friendly, electric dethatcher is emission-free and has low operating and maintenance costs. There's no pull-cord, gas tank to fill, oil to check, spark plug and filters to replace, or loud motor noise to annoy the neighbors.
For best results, most lawns should be dethatched in spring and fall. Grass should be examined up close for an underlying layer of thatch, which looks like a matting of grayish-brown stems stuck together. When there's an inch or more of thatch above the soil level, it's time to dethatch. Do not use the dethatcher in wet or damp conditions, or when the grass is longer than 3 in. high.
The WORX 12 amp, 14 in. Dethatcher (WG850, $129.99), including thatch collection bag, is covered by the WORX three-year limited warranty and is available at http://www.worx.com.
Reach out to WORX social media links, including Facebook: https://www.facebook.com/worxus?ref=hl; Twitter: https://twitter.com/WORXTools; Pinterest: http://pinterest.com/worxtools and Instagram: @WORXTools.