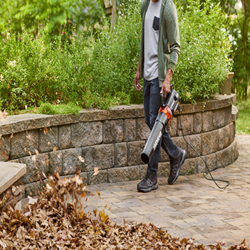 CHARLOTTE, N.C. (PRWEB) February 19, 2020
The new WORX® 12 Amp TURBINE800 Blower develops a maximum air volume of 800 cubic feet per minute (cfm), making it the most powerful electric blower in the marketplace. It is the most powerful blower ever offered by WORX. It can be used year-round to move grass clippings, leaves, dirt and other debris and other materials in its path.
It's never too early to start spring cleaning, and one area where dirt and dust resides is the garage. What used to be an arduous chore with a dust pan and a broom can be managed efficiently and quickly with the time-saving WORX TURBINE 800 Blower. From clearing cobwebs on the ceiling to dirt hiding beneath the car and in the corners, this variable-speed blower puts the user in total control.
"For homeowners who have never owned a leaf blower, now may be the time to invest in one. The TURBINE 800 Blower really packs a punch and makes quick work of clearing leaves, grass clippings and anything else in its way," said Pete Denley, WORX Senior Product Manager. "The versatile yard tool easily moves heavy volumes of leaves effortlessly, even wet ones."
The lightweight, corded TURBINE blower has a 12-amp, axial fan motor that pulls air, directly into the fan and immediately forces it out through the large diameter blower tube. The tube contains a hyper-stream nozzle that concentrates and intensifies the air stream.
Variable speed control provides air volume ranges from 420 to 800 cfm, combined with air velocities from 70 to 135 mph. At low air volume, it matches or exceeds the cfm rating of many blowers in the market. When the high speed setting is selected, the blower literally blasts leaves, grass clippings and debris out of the way. The blower saves time as it quickly herds leaves and other yard debris into easily removable and manageable piles.
The WORX TURBINE 800 Blower also is a clean machine when it comes to clearing sidewalks, driveways, decks and patios, as well as entryways into the house by removing dust and dirt.
The 6.6-lb. blower is ergonomically designed for single-handed operation. It features a soft-grip comfort handle to help reduce fatigue, especially during extended use periods. The blower's pigtail, or power connection, is equipped with a cord retainer clip to help
prevent disconnections. The blower accepts outdoor-rated extension cords up to 100 ft. (3-wire, 14 gauge) or 150 ft. (3-wire, 12 gauge). No tools are required for assembly.
The electric blower eliminates the need for gas cans, oil, or tune-ups and fumes. Gone are the hard-starting hassles and pull cords.
The WORX 12 Amp TURBINE 800 Blower (WG521, $69.99) is covered by the WORX three-year limited warranty. It's available at worx.com and Amazon.
Reach out to WORX social media links visit: Facebook: https://www.facebook.com/worxus?ref=hl; Twitter: https://twitter.com/WORXTools; Pinterest: http://pinterest.com/worxtools and Instagram: @WORXTools