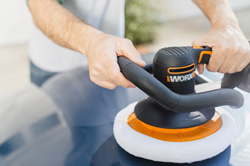 CHARLOTTE, N.C. (PRWEB) October 13, 2020
The new WORX 20V, 10 in. Orbital Buffer-Polisher quickly and easily puts a professional-looking shine on cars, trucks and vans. The ergonomically designed, go-anywhere buffer/polisher features a comfortable, overmold rubber pommel, front-assist handle that affords optimal control when it comes to detailing.
The 6.8 lb., single-speed, orbital buffer/polisher takes the strain out of polishing and buffing by hand to help achieve professional results. The buffer/polisher is easy to maneuver as it delivers 3000 orbits-per- minute (opm), as it rotates and oscillates simultaneously. Random orbiting helps prevent the user from removing paint or damaging the vehicle. Using an orbital buffer/polisher is a great way to obtain a high gloss finish when waxing vehicles. It's also equally effective in delivering a shine on boats. RVs, ATVs, snowmobiles and more.
The cordless buffer/polisher eliminates having a power cord in tow, so the operator can easily move around the vehicle without entanglements. At full charge, the buffer/polisher runs up to 45 minutes before it needs recharging.
The orbital buffer/polisher eliminates the hard work of buffing by hand. The 10 in. pad covers a lot of surface area, as it moves from one area to the next. By choosing the right bonnet and wax, the combination helps achieve professional results. When using a rubbing compound, the buffer/polisher is effective in eliminating slight imperfections, including minor scratches and swirl marks.
For best results, first wash the entire vehicle. Strategically place small drops of liquid wax on the bonnet and begin in a small area, moving the buffer in a left to right and an up and down motion. Maintain control by keeping the buffer flush to the surface with minimal pressure allowing the buffer/polisher to do the work. Work in small sections at a time, before advancing to the next area or panel. Once completed, use a micro-fiber cloth to gloss over the finish. Most bonnets are washable and it's recommended to wash them after every use.
The WORX 20V 10 in. Orbital Buffer/Polisher, WX856L, includes a 20V, 2.0 Ah Max Lithium battery; one-hour charger; elastic application bonnet and polishing bonnet. The Orbital Buffer/Polisher is covered by the WORX three-year limited warranty. The WORX 20V battery is compatible with 35 other WORX DIY and lawn and garden tools for convenience and cost savings.
The WORX 20V, 10 in. Orbital Buffer-Polisher (WX856L, $99.99) is available at worx.com. WORX also offers a bare tool option of the 20V 10 in. Orbital Buffer/Polisher (WX856L.9, $59.99) without the 20V battery and charger at worx.com.
Reach out to WORX social media links visit: Facebook: https://www.facebook.com/worxus?ref=hl; Twitter: https://twitter.com/WORXTools; Pinterest: http://pinterest.com/worxtools and Instagram: @WORXTools
# # #