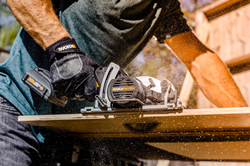 CHARLOTTE, N.C. (PRWEB) March 10, 2021
The new WORX® 20V, Power Share, 4-1/2 in. WORXSAW® Compact Circular Saw with brushless motor delivers 10 times longer motor life than a circular saw with a brushed motor. At 4.8 lbs. (with battery), the saw is lighter than 7-1/4 in. circular saws, making it highly maneuverable and nimble, even when cutting overhead.
The saw's brushless motor, slim body and compact size make it a game changer in the shop. The brushless motor delivers up to 50 percent more run time and up to 80 percent more power than a comparable saw with a brushed motor. The high performance brushless motor runs cooler, and with less friction for long tool life.
This 20V cordless compact circular saw uses a blade with a 3/8 in. arbor size, allowing the motor to spin twice as fast as traditional circular saws.
The compact, brushless WORXSAW has a slim, inline overmold grip with integrated safety trigger. Ergonomic design of its nylon-composite body provides comfortable, one-hand operation, especially when cutting overhead. A narrower base plate permits cutting in spaces that might be too tight for standard, 7 ½ in. circular saws to operate. The compact saw also features a left-sided blade design for unobstructed cut-line visibility.
The WORXSAW has a 4-1/2 in., thin-kerf blade. The smaller, thinner blade reduces resistance and motor strain when cutting through materials, which boosts efficiency. The saw's no load speed is 6900 RPM. The saw also features an electric blade brake, which stops the blade in seconds, once the trigger is released.
The compact saw's depth-of-cut is 1-1/2 in., making it ideal for making quick and precise crosscuts, rip cuts or plunge cuts. An adjustment knob sets up bevel cuts from 0-46º. The saw's its depth-of cut at 45° is 1-1/8 in.
By switching to an optional 4-1/2 in abrasive blade (WA5048), the saw cuts masonry. To remove blades, the operator presses the spindle lock and loosens the blade screw with the provided hex key.
The cordless saw also features a dust extraction port with vacuum adapter attachment. A parallel edge guide also is provided to set up accurate rip cuts. An LED light on the front of the saw helps illuminate the cutting zone.
The WORXSAW is powered by a compact, 20V, 2.0 Ah Max Lithium battery with a built-in fuel gauge. As part of the WORX 20V Power Share program, the battery is compatible with more than 35 WORX 20V DIY tools and lawn and garden equipment for cost savings and convenience.
Included with the WORX 20V, Power Share 4-1/2 in. WORXSAW® Compact Circular Saw with brushless motor is a 20V 2.0 Ah Max Lithium battery, one-hour charger, 24-tooth carbide-tipped blade, vacuum adapter, parallel edge guide, hex key and carrying bag.
The WORX 20V, Power Share 4-1/2 in. WORXSAW Compact Circular Saw with brushless motor (WX531L, $159.99) is available at http://www.worx.com and Amazon.
A bare tool version of the compact circular saw without the battery and charger (WX531L.9, $99.99) also is available. The WORXSAW comes with a three-year limited warranty.
Reach out to WORX social media links visit: Facebook: https://www.facebook.com/worxus?ref=hl; Twitter: https://twitter.com/WORXTools; Pinterest: http://pinterest.com/worxtools and Instagram: @WORXTools