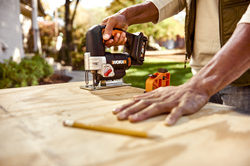 CHARLOTTE, N.C. (PRWEB) January 23, 2019
The new WORX 20V Jigsaw is a handy toolbox addition when it comes to making cuts in wood and other materials. For homeowners, the jigsaw may be the second most popular portable power tool to own next to a power drill, due to its ability to cut a number of materials by simply changing blades.
The WORX 20V Jigsaw weighs 5.3 lbs., it's compact, lightweight and highly maneuverable. Plus, the saw uses standard T-shank jigsaw blades, which are widely available at hardware stores and home centers. Not only does it cut wood, but accepts a variety of blade types to also cut PVC pipe, plastic, fiberglass, aluminum, copper, and thin steel.
The 20V jigsaw has a no-load speed of 0-2600 strokes-per-minute (spm) with a blade stroke length of 15/16 in. The saw's cutting capacity is 3-15/16 in. in wood, 25/32 in. in aluminum and 25/64 in. in steel. Its bevel cutting capacity is 0-45º.
The variable-speed jigsaw is powered by a 20V MAX lithium 2.0 Ah battery. The saw features a three-position switch to choose cutting performance levels from fine to rough cutting with three orbital settings. The 20V MAX lithium 2.0 Ah battery has a battery power level indicator. By pressing the battery's red keypad, the power gauge indicates how many bars are left before it needs recharging. The 20V battery is part of the WORX Power Share program making it compatible with other WORX 20V DIY and lawn and garden tools,
The cordless saw provides unrestricted use and is not hampered by a power cord. The jigsaw's handle has a rubber overmold on top for comfort and control. The saw features an easy-access on/off trigger with lock-off button to prevent accidental start-ups.
Faster speeds are best when working with soft woods such as pine. Choose a slower speed to help eliminate wood burn. Keep in mind that blades with fewer teeth per inch (tpi) are best for aggressive cuts such as those in rough carpentry. The more teeth per inch, the finer the cut. Also, the blade length must be longer than the material being cut.
Jigsaws can expand creativity. Consider wooden sign patterns that are available in a variety of shapes and sizes, such as a jersey cow or a brown bear. Use the jigsaw to make the cutouts following the pattern as a guide. After sanding, add paint to the pattern face and then follow-up with a few coats of polyurethane, and it's a project to be proud of.
When constructing a bird house and a center hole is needed, drill a hole in the center and then cut the hole using the jigsaw. If square or rectangle panels are required, mark the length and width, and then drill holes in all four corners. Follow through with the jigsaw to make the straight cuts.
Accessories included with the tool are a 2.0 Ah MAX lithium battery, a 5-hour charger, one woodcutting saw blade, vacuum adapter for dust collection and a hex key for blade changes. The jig saw's battery is compatible with all WORX 20V MAX lithium batteries from the company's 20V PowerShare program, which includes lawn and garden and DIY tools.
The WORX 20V Jigsaw (WX543L, $69.99) is available at worx.com, and Amazon. A bare tool option also is available (WX543L.9, $49.99). The bare tool option does not include a battery or charger. The 20V Jigsaw is covered by the WORX three-year warranty.
Reach out to WORX social media links like Facebook: https://www.facebook.com/worxus?ref=hl; Twitter: https://twitter.com/WORXTools; Pinterest: http://pinterest.com/worxtools and Instagram: @WORXTools