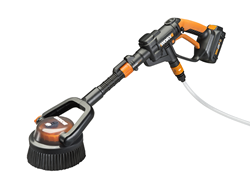 The 20V, 4.0 Ah Hydroshot's brushless motor features electronically controlled power distribution, which increases battery run time over standard brushed motors up to 50 percent.
CHARLOTTE, N.C. (PRWEB) July 09, 2019
The new WORX® 20V, 4.0Ah Power Share Hydroshot™ Portable Power Cleaner combines a hi-tech brushless motor and long-lasting MAX lithium battery to take charge of this summer's many outdoor cleaning chores. Plus, a new optional Deluxe Cleaning Kit provides everything needed to clean a home, car or boat – including a squeegee; soap dispenser; pivoting, quick-connect adapter; and adjustable, power-scrubber brush with hard bristles.
The 20V, 4.0 Ah Hydroshot's brushless motor features electronically controlled power distribution, which increases battery run time over standard brushed motors up to 50 percent. Electronic control improves motor efficiency by precisely matching power usage to each cleaning task's requirements. Motor life is increased by reducing friction, heat build-up and wear. Noise also is reduced.
The pump-driven, 5.5 lb. Hydroshot delivers water pressure up to 350 psi, which is six times more than a standard garden hose and nozzle. That's plenty of cleaning power to wash down decks, patios, windows, vehicles, boat hulls, bicycles, patio furniture, garage floors, and more.
An Eco setting for watering and other light spraying tasks is provided by pressing a top-mounted button. Five different spray patterns also can be selected by rotating the nozzle from 0º to 15º, 25º, 40º or shower settings.
When attached to a standard garden hose, Hydroshot conserves water by using less than one gallon-per-minute (gpm). It also is designed to draw fresh water through a 20 ft., accessory hose (included) from lakes, rivers, pools or buckets. An adjustable float on the accessory hose acts as a bobber to keep the intake from reaching sandy or muddy bottoms. For complete portability, Hydroshot also connects to most 2-liter bottles with a 1 in. opening through a Bottle Cap Connector (provided).
As part of the WORX 20V Power Share Program, Hydroshot's removable battery is compatible with more than 25 other WORX lawn and garden and DIY tools. This battery-sharing capability results in significant savings and convenience. The 4.0 Ah battery has a built-in LED power gauge that indicates how many bars are left before the battery needs recharging.
Hydroshot includes (1) 20V, 4.0 Ah, Power Share, MAX lithium battery; (1) 20V, 2 hr. quick charger; (1) 20 ft. hose accessory; (1) pressure cleaning wand; (1) bottle cap connector; (1) multi-spray nozzle; and (1) quick-connect adapter. It's covered by the WORX three-year limited warranty.
In addition, the new optional Hydroshot Deluxe Cleaning Kit provides the following four handy accessories to make cleaning tasks easier:
The 12-in. Window Squeegee features a quick-connect that snaps directly onto Hydroshot's extension wand. The squeegee provides a spray of water when needed to penetrate and rinse away dirt for streak-free window cleaning. The heavy-duty squeegee also has a durable, aluminum blade cartridge that holds an interchangeable blade.
The 13.5 oz. Soap Dispenser with quick-connect is ideal for many cleaning tasks. It provides a steady flow of a mild soap and water mixture to wash windows, cars, boats, garage floors, patios, patio furniture and more.
The Pivoting Quick-Connect Adapter allows power cleaning tips to be adjusted 180o in any direction. This enables Hydroshot to clean in hard-to-reach areas, such as wheel wells and bumpers of vehicles.
The Adjustable Power Scrubber has a quick-connect for easy attachment and detachment when switching between jobs. Its hard-bristle design thoroughly cleans outdoor furniture, window frames and sills, siding and other surfaces. Dual articulating points allow easy adjustments. The pivoting brush head articulates on the arms of the brush, so it better contours to cleaning surfaces.
The WORX 20V, 4.0 Ah, Power Share Hydroshot Portable Power Cleaner (WG630, $179.99) is available at worx.com. The WORX Hydroshot Deluxe Cleaning Kit (WA4072, $59.99) is available at worx.com and Amazon.
Reach out to WORX social media links, including Facebook: https://www.facebook.com/worxus?ref=hl; Twitter: https://twitter.com/WORXTools; Pinterest: http://pinterest.com/worxtools and Instagram: @WORXTools