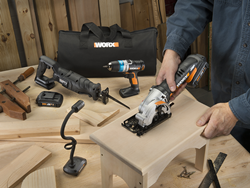 Your favorite tool enthusiast is likely to reach first for the new WORX Ai Drill & Driver with exclusive BitLock, SafeDrive, and PulseAssist features.
CHARLOTTE, N.C. (PRWEB) December 12, 2018
Innovative WORX® tool gifts are well known for creating spontaneous wows when unwrapped during the holiday season. This year, the surprisingly affordable WORX 20V, 4-Pc Combo Kit multiplies the yuletide wow factor four times by bundling the popular Ai Drill & Driver, WORXSAW®, Reciprocating Saw and Flex Light.
Your favorite tool enthusiast is likely to reach first for the new WORX Ai Drill & Driver with exclusive BitLock™, SafeDrive, and PulseAssist features. The Ai Drill has no clutch settings. Instead, electronic controls enable the tool to safely and efficiently drill holes and drive or remove screws, depending on the work material.
When a drill or driver bit is loaded into the tool's 3/8 in. chuck, BitLock's motorized jaws self-center and secure it with 30 percent more torque than by manually tightening. The motorized chuck also runs in reverse to release the bit.
SafeDrive allows the Ai Drill & Driver to drive screws automatically. The proper amount of torque is used to drive the screw into a particular material, then stops when the head is flush to the surface.
PulseAssist helps prevent drill bits from slipping when drilling in hard materials. It also drives screws snug to the surface without over-tightening or stripping the screw heads. PulseAssist also works in reverse to back out stubborn screws.
The Ai Drill & Driver weighs 3.1 lbs. with battery, and has a no-load speed range of 0-800 rpm. The single-speed drill & driver can handle a wide range of DIY tasks with 180 in./lbs. of torque. An LED light is activated by the trigger to illuminate the work area. The tool's drilling capacity is 1 in. in wood and 3/8 in. in mild steel.
The 20V, 3-3/8 in. WORXSAW is sure to lift the holiday spirit of any do-it-yourselfer. The compact circular saw weighs only 4.1 lbs., including battery, and has a slim, inline grip. This allows comfortable, one-hand operation, especially when cutting overhead.
WORKSAW's narrow base plate permits cutting in spaces that are too tight for standard, 7¼ in. circular saws. Its left-sided blade design provides unobstructed cut-line visibility.
WORXSAW has a 3-3/8 in., thin-kerf blade that's less than half the thickness of a 7¼ in. circular saw blade. This smaller, thinner blade improves efficiency by reducing cutting resistance with less motor strain. The saw's no load speed is 2300 RPM.
The compact saw's depth-of-cut is 1-11/16 in., making it ideal for making quick and precise cuts, including plunge cuts, in 1-by lumber. A depth-of-cut knob is turned to raise or lower the blade in 1/8-in. increments.
The cordless saw features a dust extraction port with vacuum adapter attachment and a parallel edge guide to set up accurate rip cuts. It also comes with a 24T, carbide-tipped blade and hex key.
The WORX 20V Reciprocating Saw bestows the holiday gift of faster, less strenuous remodeling/demolition work, and more. The cordless saw weighs less than 6 lbs. and is highly maneuverable. By simply changing blades, it makes short work of cutting wood, metal, PVC pipe, drywall, tree branches, and even tile and stone. The reciprocating saw has a 7/8 in. blade stroke and cutting capacity of 7 in. in wood; 3 in. in PVC; and 15/32 in. in steel.
The 20V Reciprocating Saw features convenient tool-less blade changes, so it's easy to quickly move from one project to another. The saw also has three pendulum (orbital) mode settings, ranging from fine/detail sawing to aggressive cutting for demolition or pruning. Its pivoting foot plate is adjustable and provides a large contact surface area for stability and control.
The variable speed reciprocating saw delivers 0-3,000 no-load strokes-per-minute (spm). A lock-off switch prevents accidental startups and an LED light helps illuminate the work area. The saw's rubber grip handle provides optimal comfort and control.
The WORX Flex Light rounds out the combo kit. This multi-purpose, LED work light with flexible gooseneck shaft easily fits into confined spaces and provides up to 100 lumens for up to 15 hrs. on a single charge. Its flexible shaft bends in numerous positions and brings light as close as possible to the work area. It also can be hung above the work area with a provided nylon reinforced hook that snaps onto the shaft.
The WORX Flex Light is ideal for use at jobsites, but also is handy in workshops, garages, during power failures, camping or RVing, fixing flats and other road emergencies, and more.
The WORX tools in the 4-pc. combo kit are powered by a compact, 20V, MAX Lithium 1.5 Ah battery. As part of the WORX 20V Power Share program, these batteries also are interchangeable with all WORX 20V lawn and garden and DIY tools for cost savings and convenience.
The WORX 20V, 4-Pc Combo Kit (WX947L, $149.99) includes a 20V Ai Drill & Driver, 20V WORXSAW, 20V Reciprocating Saw, 20V Flex Light, two 20V, MAX Lithium, 1.5 Ah batteries and a 5 hr. battery charger. The combo kit is available at worx.com. It is covered by the WORX three-year warranty.
Click the following link to see the WORX 20V Ai Drill & Driver in action: https://www.youtube.com/watch?v=1JyonurgMFE&t=23s
Reach out to WORX on social media links, including Facebook: https://www.facebook.com/worxus?ref=hl; Twitter: https://twitter.com/WORXTools; Pinterest: http://pinterest.com/worxtools and Instagram: @WORXTools