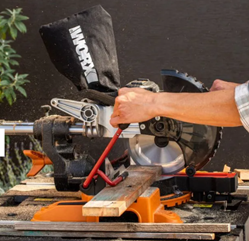 This cordless, sliding, miter saw cuts planks and rails for deck building with ease.
CHARLOTTE, N.C. (PRWEB) September 21, 2020
The new WORX® 20V Power Share 7 ¼ in. Sliding Compound Miter Saw includes a built-in, hold-down lever that clamps the work piece on both sides of the blade while cutting. This exclusive feature not only secures the material throughout the duration of the cut, but also keeps the operator's hands safely away from the blade.
The 20V, 7 ¼ in. sliding miter saw is ideal for homeowners, as well as trim and finish carpenters and deck builders. At 21 lbs. (with battery), the saw's aluminum frame construction makes it less than half the weight of a conventional 10 in., sliding miter saw, allowing easy transport. Plus, a wide assortment of the saw's 7 ¼ in. blades are readily available at less cost than standard 10 in. or 12 in. miter saw blades.
The miter saw's cordless versatility frees users from depending on power outlets or extension cords. It cross-cuts 2x8s or 2x4's with ease. Besides cutting crown molding, trim, window casements, picture frames and more, the saw is capable of cutting planks and rails for deck building.
The compact saw delivers no-load blade speed of 3600 RPM, rivaling that of larger saws. It is equipped with a WORX 20V, 4.0 Ah, Max Lithium battery, which doubles the run-time of a standard 2.0Ah battery. This powerful, long-lasting battery is compatible with more than 35 other WORX DIY and lawn and garden tools. The battery has an LED fuel gauge, which is visible from the saw's exterior to show charge levels during operation.
The 20V miter saw's maximum depth of cut at 90º is 2 ¼ in. Its hi-vis miter scale helps set up miter cuts with positive detent stops from 0 to 47º left/right. For beveled or angled cuts, the bevel scale sets up cuts from 0-45º left. Depth stop adjustments are included for dado or repetitive cut operations. For standard miter cuts, the slider's lock knob is engaged. When released, the saw can cross-cut wider pieces of stock. Enclosed, linear ball bearings provide smooth and controlled slide operation on the saw's rails.
The saw's two-part, adjustable, fence system handles taller stock, such as crown molding. The fence is 3 ¼ in.H on the left and 2 ½ in.H on the right. Left and right extension wings fold up for convenient storage and transport.
Other built-in features of the 20V miter saw include a precision shadow cut line, plus an LED work light. A dust bag is provided for debris and sawdust collection, or the saw's 1-5/8 in. dust port can be connected to a shop vac.
The saw features an ergonomic D-shaped handle grip suitable for right or left-handed users. The trigger is built into the handle for easy on/off operation.
Four integrated holes in the miter saw's base are provided for temporary or permanent mounting to a workbench. The saw also is compatible with most portable miter saw stands, such as the WORX Pegasus Folding Work Table and Sawhorse (WX051).
The new WORX® 20V Power Share 7 ¼ in. Sliding Compound Miter Saw (WX845L, $299.99) includes a 20V, 4.0 Ah battery; 2-hr. charger; 40-tooth, carbide-tipped blade; dust bag and blade key. The miter saw is available at worx.com and online retailers including Amazon. It is covered by the WORX three-year limited warranty.
Reach out to WORX social media links by visiting: Facebook: https://www.facebook.com/worxus?ref=hl; Twitter: https://twitter.com/WORXTools; Pinterest: http://pinterest.com/worxtools and Instagram: @WORXTools